All photos by Karen Ung
KAREN UNG
Waterton National Park is best known for its dramatic scenery, sparkling blue lakes, and abundant wildlife, but did you know it has a food festival? The 3rd Annual Waterton Food Festival, from May 26 through June 4, 2017, promises to be delicious with special events including a Chef's Table Dinner, Taste of the Opera, and my favorite - the Pie Cruise. 
The only thing better than sailing from Waterton to Glacier National Park in Montana, is to do it with pie! For those who prefer to dine al fresco on the trail, during the Waterton Food Festival grab-and-go tasty hikers' lunches are available from Pearl's Cafe and Glacier Bistro.
Help your friends #DareToExplore. Share this page on Twitter.
The Waterton Food Festival is a culinary event "for foodies and families". Children are welcome everywhere (except the nightclub)! "Even the nicest sit-down establishment in Waterton, Bayshore's Lakeside Chophouse, is child friendly. The atmosphere is quite relaxed and comfortable," says Captain Keith Robinson, of Waterton Shoreline Cruise Company.
In fact, the whole town of Waterton has a laid-back vibe; an atmosphere that keeps people coming back year after year to work and play. Many of the local businesses have been run by the same families for generations. Our cruise guide, Mike, tells us you can identify the locals by their perpetual lean to one side - due to Waterton's strong winds. But all we notice are their smiles. (And fluffy tails, because half the population is made up of deer or bighorn sheep.)
Dive into delicious culinary treats during the Waterton Food Festival. Plan your foodie adventure.
It is breezy on the boat, but not cold enough to keep us off the upper deck where you get the best view. Mike regales us with interesting tales of Waterton's geography and history as we scan the shoreline for wildlife. It's cool we can cross into Glacier National Park, Montana without a passport and I keep thinking how amazing the cruise would be with pie during the food festival. Pie + cruise = perfection!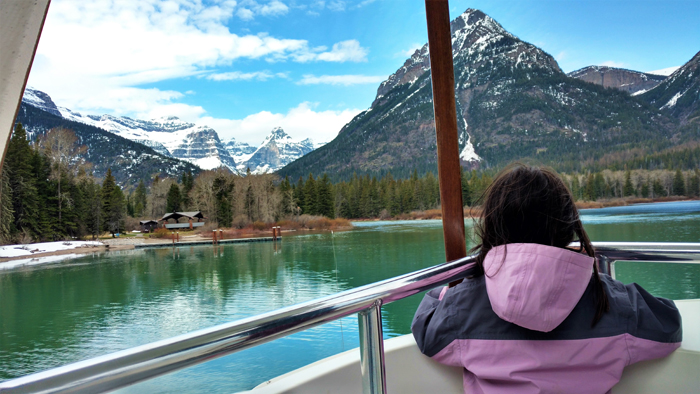 Back in town, we make our way to Weiners of Waterton for lunch. Most of the boat has the same idea, but the line moves quickly and in short order we are devouring perfectly grilled dogs, sweet potato fries with chipotle mayo, and poutine. The girls decide right then and there they want to move here and eat hot dogs every day.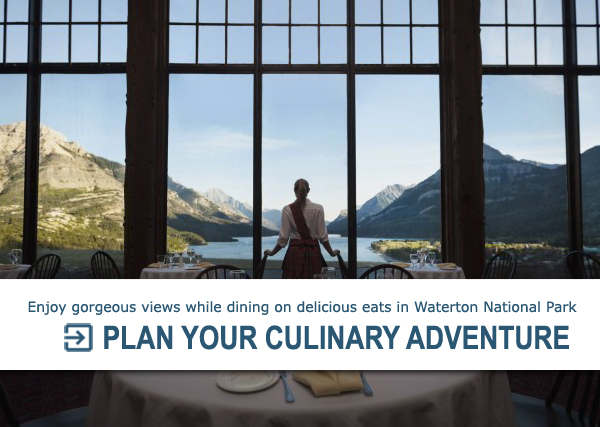 While it is tempting to chill on the patio all afternoon, the mountain is calling. Which mountain? The Bear's Hump! Waterton's most popular trail (2.8 km return) offers stunning panoramic views and a bird's eye view of the iconic Prince of Wales Hotel. There are also tons of wildflowers! Allow 1.5-2 hours if hiking with little ones.
Other family-friendly hiking trails in Waterton include Red Rock Canyon (700 m loop), Crandell Lake (4 km return) and Lower Bertha Falls (5.6 km return). The lakeshore trail near town is perfect for viewing wildlife in the evening and Emerald Bay's calm waters are wonderful for wading, swimming or paddling.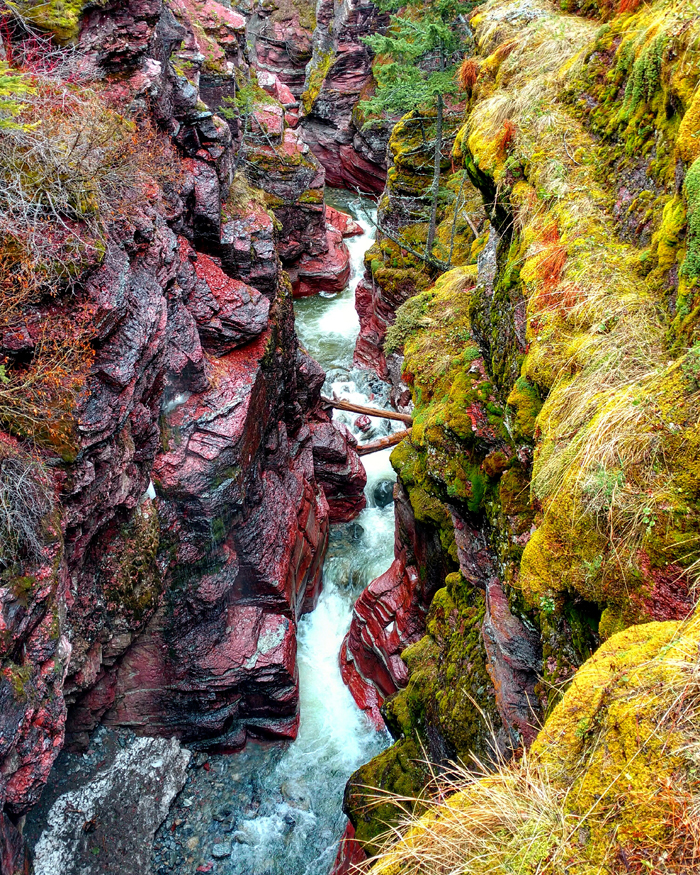 For a unique way to explore Waterton, rent a surrey bike from Pat's. Ride to The Big Scoop for ice cream or Welch's for pie or candy, and watch for bighorn sheep crossing the street. It was so much fun and we look forward to doing it again! Pat's is also your place for mountain bike, tandem bike, and scooter rentals; famous popcorn; camping gear; and fishing gear.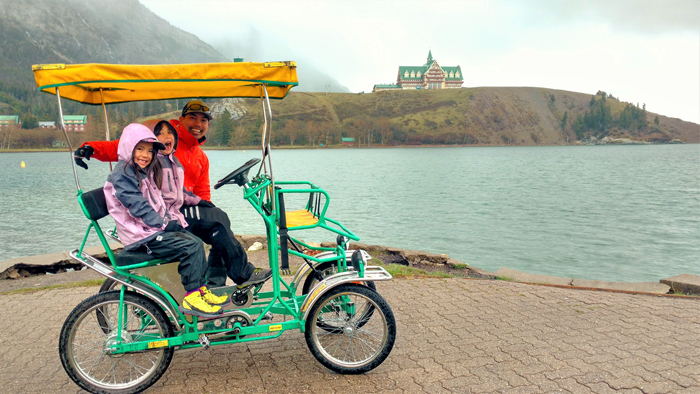 After a day of adventuring, everything at the Bayshore's Lakeside Chophouse is extra delicious. True to Keith's words, the kids are set up with kids' menus and crayons, and no one minds when the girls sneak outside to go on the swings. We watch the sky turn from blue to pink over the lake and start planning our next (longer) trip to Waterton.
Other events to tickle your taste buds during the Waterton Food Festival include the Thirsty Bear Social at the Thirsty Bear Saloon, A Taste of Opera at the Historic Waterton Lakes Opera House and lunch and dinner packages available from many of the culinary establishments throughout the town.
If you go
There are more than few facts that show just how special Waterton is, like this tidbit. Did you know Waterton Lakes National Park is home to more than 50 per cent of Alberta's wildflower species? That's more than any other Rocky Mountain national park. Also, just to prove how unique this ecosystem is, Waterton is home to 175 species of rare plants listed in Alberta, 20 of those are found only in this park. You can learn more at the Waterton Wildflower Festival June 15th-June 20th.
Read our Festival Overview of the Waterton Food Festival
Waterton has an exciting menu of adventures, start making those discoveries here.
For more information on the Waterton Food Festival, visit My Waterton. Purchase Waterton Food Festival Tickets here.
Explore Southern Alberta this year and make your #BucketListAB plans, start here: www.TourSouthernAlberta.com
Are you ready to check out Waterton National Park for yourself? Share this page with your crew and start planning!