For four days in August, step back into Alberta's farmsteading past and rich heritage in four communities along Canada's Mormon Trail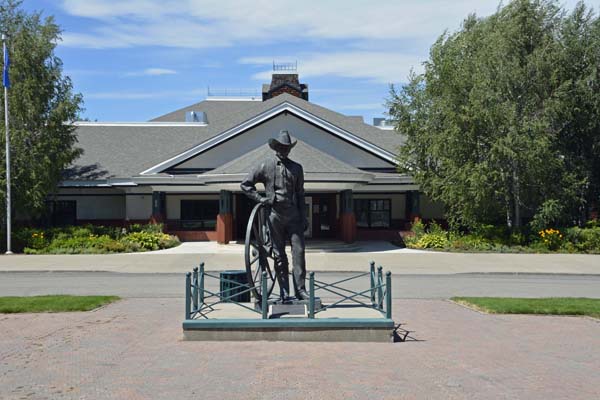 DEBBIE OLSEN
Driving through the towns in the Canada's Mormon Trail on a beautiful summer's day with farm land stretching as far as the eye can see and the majestic mountain backdrop, it's easy to imagine a simpler time where volunteers worked together to build whatever was needed in their community, women churned butter in their yards and entire families gathered for a community dance after a day in the fields, 
These are pastoral images of community life where the same values that brought people across the Canadian border to southern Alberta to start new lives and establish an irrigation system to support agriculture, are still evident in the communities today.
Tweet this page and #DareToExplore Chautauqua.
'Footprints in the West'
This rich-in-history landscape will be celebrated in the annual Chautauqua Revival from Aug. 10 to 13. Recognizing the earliest settlers who travelled in wagons and on foot, the theme for 2016 is "Footprints in the West." In keeping with Chautauqua's road-show style concept, the Canada's Mormon Trail communities of Cardston, Magrath, Stirling and Raymond are each hosting one day of activities over the four day event. 
It's a unique, fun and authentic chance to get off the beaten path and explore the Alberta of 120 years ago.
Local historian and teacher, Jack Stone, offered a historic glimpse of Alberta's roots and a part of the story that will be experienced at the Chautauqua Revival. 
"Sir John A. MacDonald and other Canadian political leaders were eager to solidify Canada's hold on its wild western frontier and welcomed these pioneers who had special expertise in irrigation and agriculture," says Stone, naming Alexander Galt and C.A. Magrath as two businessmen who were integral to the success of these prominently in those days. 
But first, what is a Chautauqua?
A Chautauqua has humble roots as a school for Sunday school teachers in New York State in the 1880s. Its popularity quickly grew and it soon evolved into a roadshow concept featuring popular speakers of the day, music, drama, novelty acts and children's activities, as well as providing a stage for local performers. The first travelling Chautauqua in western Canada took place in Alberta in 1917 and now it's back, in the same spirit of those olden days.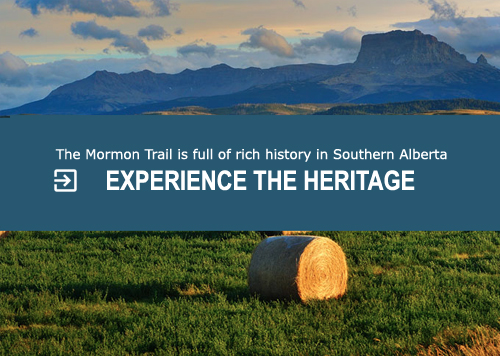 Get into the pioneer spirit 
So, gas up the car and prepare to step into the past for one day or all four, and get in the spirit of the Chautauqua Revival which offers an array of activities based on the four Chautauqua pillars of education, cultural arts, recreation and religion (spiritual exploration). These are also values that are evident in the local communities, making the Chautauqua an authentic representation of life in Canada's Mormon Trail.
"The Mormon Trail Chautauqua is a family-friendly event for all ages," said Sandra Nelson, chair of the event.
With up to 50 Chautauqua-type activities a day in the communities (many of them free), there is something for all ages to do and experience from the chuck wagon breakfast to dances, campfires and story-telling in the evening. 
In addition to speakers on various topics, learning how to make bowls and tools from wood, making candy and giving 'roping' a try, there are demonstrations, live performers and community tours on wagons. The kids can take part in a theatre camp, swimming, old fashioned games and get close with some animals in a petting zoo. 
Some communities will play up their individual pasts and personalities and you just might find yourself wandering down the street alongside a costumed historic character telling tales of the old days. Every community will also have a special traditional food dish available as well as a local favorite… jello!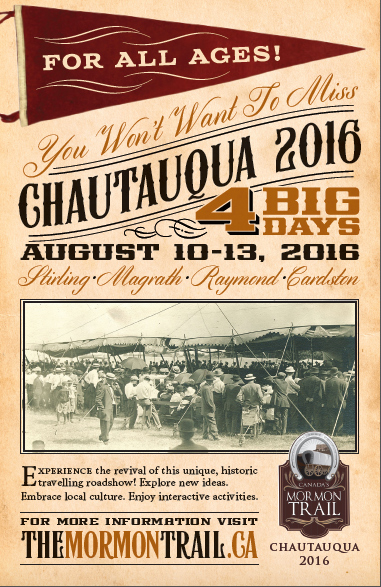 One of the key highlights of the Chautauqua is the play, "Are We Not All Strangers", which tells the story of the early Mormon settlers, says Nelson, and each year will see more stories being told. 
The play is a labour of love for local historians who spent hours gathering details for the original and engaging account historical account of about the how the Mormon Trail began. Staged nightly at Cardston's Civic Centre with a matinee on Saturday, it is professionally written with an original music score and is not to be missed. 
Historical Adventure Worth Taking
Each of the communities of the Mormon Trail has its own vibrant history and unique attractions that are fun to explore at any time of year. The area is home to the first (and longest running) rodeo in Alberta, historically significant sites, unique museums, parades, golf courses, trail rides, live theatre and countless other attractions and events to enjoy. 
For more information on the Mormon Trail or the Chautauqua Revival, visit: TheMormonTrail.ca.
When You Go
Purchase tickets to Are We Not All strangers?
Join the Facebook Event so you can start planning your Southern Alberta Getaway
Did you know you can take a 2-4-hour self guided driving tour in Southern Alberta as part of the Mormon Trail?  Find out more here.
Are you ready to check out Chautauqua for yourself? Share this page with your crew and start planning.