KENTON DEJONG
I steadied myself, held my breath and unholstered my camera. Moments later, a dozen horses thundered past. Before I could breathe again, chunks of dirt and mud rained from the sky – debris kicked up by the galloping horses. Most fell around me, but some landed on my shoulders, exploding into dust.
Help your friends #DareToExplore. Share this page on Twitter.
"You might want to stand back," one of the senior photographers mentioned. He meant this both jokingly, as I brushed the dirt off, and seriously.
Getting too close to the horses can spook them, and they might change direction suddenly, tossing the rider and the chuckwagon in any direction. There is a reason chuckwagon races have the nickname "Half-Mile of Hell." It's fast, dirty and high risk, but the riders love every minute of it.
Discover Medicine Hat while attending the annual Medicine Hat Stampede. Plan your adventure...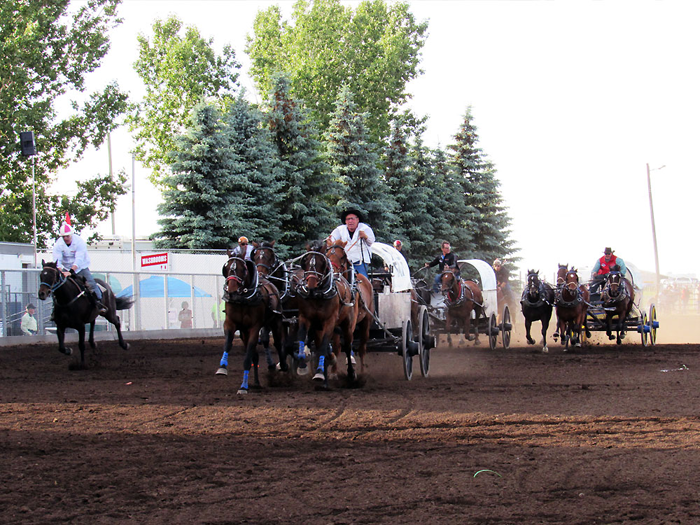 If there's anything I learned at the chuckwagon races in the lead up to the Medicine Hat Exhibition and Stampede, it's to respect the horses. To a spectator, or one who casually watches the races, the amount of work behind organizing and hosting the chuckwagon races is astronomical. If you were to add to that the various kinds of breeds, types and bloodlines of the horses involved, any novice would be blow away. 
Medicine Hat Exhibition and Stampede Queen, Brittney Chomistek, tried explaining the different horses, but I found my pen couldn't go fast enough to write them all down.
Another thing I learned on my way to becoming a cowboy was to get to know your neighbour. Everybody I spoke to, from security guards to stampede royalty, were passionate about their work. There are dozens of committees at the grounds, which control over 500 volunteers. These volunteers vary from retirees to young teens, and all have a love for the cowboy country.
At 130 years old, volunteering at the stampede and exhibition can even be a family tradition, tracing back through the decades and into the 1880s. Nothing brings a community together like tradition, and in cowboy country that's exactly what the Medicine Hat Exhibition and Stampede is.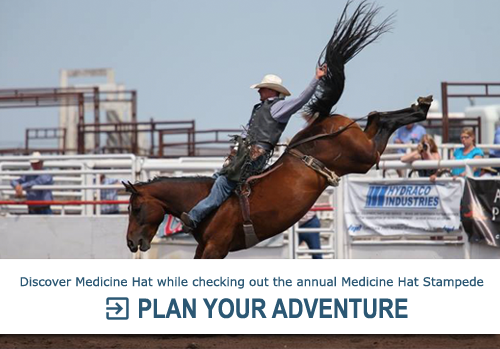 For those who want more than just the stampede, there are events going on throughout the summer. If you love buckin' broncos, there's a rodeo, chuckwagon races, barrel racing and horse competitions. If horses aren't your thing, there are also farmers markets and numerous concerts.
People come from across Western Canada and the United States for these varieties of events, but they stay for the people. The atmosphere at the grounds is electric. While I only experienced the chuckwagon racing, I could feel the energy from the crowd as the riders got closer and closer to the finish line. I imagine this will only be a fraction of the energy compared to that of the Medicine Hat Exhibition and Stampede from July 26 to 29.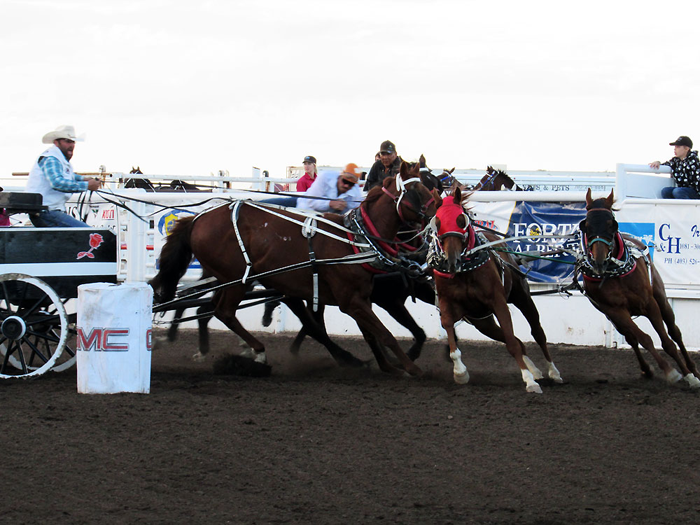 If you need an escape from the wagon races, the historic Pioneer Village is just a few yards away. With its restored, late 1880s architecture, this area is like stepping back in time to a world without cellphones, emails and instant messaging. If you managed to get away, you'll experience a rare glimpse back to the days of cowboys and outlaws, to a world we can only experience now at locations like the Medicine Hat Exhibition and Stampede.
There is no easy way to suddenly transform into a cowboy. It takes decades of training and years of bonding with your horse. Straw hats, a country accent and leather boots are a good start, but being a cowboy goes much deeper than that. It's something that doesn't happen overnight, but getting dirt on your shoes – or in my case, on my shoulders – is a good start.
More Information
Medicine Hat Stampede grounds are located at 2055- 21st Ave. SE, Medicine Hat.
Head to the official website to learn more: www.mhstampede.com
Start planning your trip to Medicine Hat here.
Do your friends a favour, and share this info on your social media channels.