Welcome to pedal heaven.
Photos by Visit Penticton
CRAI BOWER
Cyclists know lust. We see trails everywhere we go, whether we're visiting a new city or traveling cross-country. Few places cause us to ogle more than a lakefront or valley of wineries. For us, hitting a rails-to-trails project is like pedaling into Nirvana. As if out of some fantasy, Penticton, B.C. boasts Okanagan Lake, over 60 wineries and the Kettle Valley Railway trail (KVR), the famous 373-mile-km rails-to-trails circuit. Add the various mountain biking routes and we're in pedal heaven.
Help your friends #DareToExplore. Share this page on Twitter.
Located at the southern end of the 84-mile long Okanagan Lake, Penticton biking is just over 5 hours away by car from Seattle and one hour from the Kelowna Airport, which is serviced by Alaska Airlines from SeaTac. Even without the trails, Okanagan biking would draw any cyclist's attention for another reason: 304 days of annual sunshine! Penticton is located in the heart of Canada's shrub-steppe desert. That Canada even contains a desert environment surprises most international visitors – and many Canadians! The crazily favorable exchange rate takes care of the afterglow.
Learn more about cycling in the area, and plan your trip here.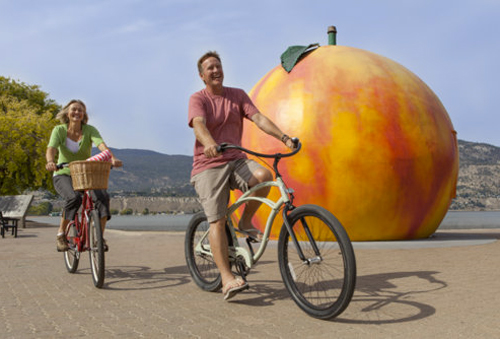 Grab a bike and ride around town. Penticton is home to incredible views, which are also bike friendly
Penticton embraces the Okanagan biking culture, having installed its first Cycling Hub, a complimentary tool and pump station, in the heart of town. Home to one of North America's most popular Prospera Granfondo events, hosting 3,000 riders, the city of 38,000 is accustomed to the clip-clop of cyclists everywhere.
Four breweries, four distilleries and three cideries have joined the wineries, many of which you can visit on several winery cycling tours. And we need not worry about car hopping, as shuttles are available to the KVR and other trailheads.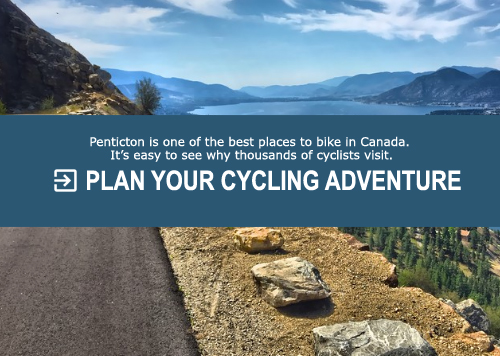 Okanagan Lake glistens below the KVR as we depart the Little Tunnel and officially enter the Southern Okanagan region. The ponderosa pine forests fade into west facing slopes of vineyards on the Naramata Bench, one of the regions best known boutique wine regions and a classic example of the Okanagan's many microclimates. This stretch of the KVR provides a gradual downhill coast toward or easy climb up from Penticton as the sky opens wider than anywhere west of Montana. The entire KVR grade is less than 2.2%!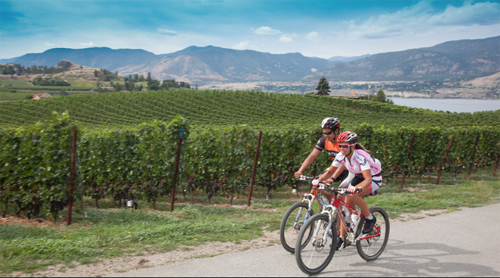 Like the idea of biking and wine tasting in the South Okanagan? Hop on the KVR Trail
While the KVR garners the most attention for obvious reasons, it is hardly the only trail in town. Nor is Penticton cycling exclusively a road bike haven. The outdoor adventure mecca carries the special "twofer" cred, as come winter skiing at neaby Apex Mountain Resort and getting gnarly on more than 200-named mountain bike trails in one day is a no brainer.
The Three Blind Mice Trail complex is one of the best examples of Penticton downhill, contain single track temptations for absolutely everyone with a dozen beginner runs, 52 intermediate excursions, 22 expert trails and a couple of beastly descents. A starter run like Bear courses along for almost a mile, allowing any rider to get his feet firmly under him while slipping into the forest and taking a light jump or two. The intermediate Ferngully tests balance aboard the narrow track before linking onto the mile-long Skull Coaster. The one-mile Drops A Lot is true to its name and black diamond status, a bone jarring descent over crags and outcroppings.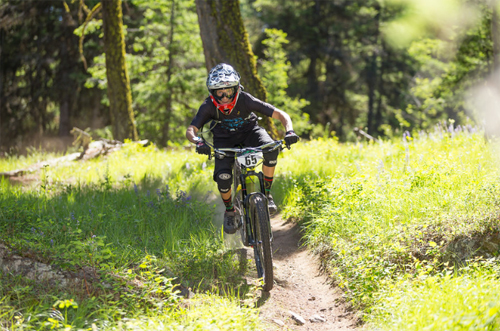 Need a little more adrenaline? Descend on to Pentictions incredible downhill trails.
Like the best ski hills, the Three Blind Mice Trail complex, numbering over 100 trails, allows riders of various skill levels to descend in unison on trails sporting various technical challenging before rejoining peers at the bottom to climb back up and do it again. It's also a very cool coast back into town on the KVR as you recall your day over the stumps and through the trees.
What the Grouse Grind is to Vancouver, the Test of Humanity trail is to the Okanagan, a must-ride excursion that answers the "Have you ridden the Test yet?" query at local coffee shops and cafés. The 6-mile intermediate trail is well known for the annual "Test of Humanity" fundraiser each autumn, a charity ride that raised over $40,000 in 2015. The loop climbs almost a quarter mile over sublimely maintained single track availing enticing vistas of Okanagan Lake and the surrounding peaks.
If a quarter-mile climb sounds a bit too arduous, consider a trek into the wine valley just south of Penticton, where the highly regarded Campbell Mountain Trail loop sets up like a young Pinot Noir, light bodied with a great finish. This intermediate 2-mile loop requires just a 100-ft climb before the 1,000-ft plus drop through wide-open meadows and thin stands of pine that provide a natural picture window toward Okanagan Lake.
Whether joining the regular Thursday and Saturday group ride or rock hopping down the new Nevermind trail in Three Blind Mice, Penticton cycling is poised to catch some serious air as Canada's best.  
If you go
Pentiction is home to incredible biking trails for the beginner and the most well trained atheles. Start planning your trip here.
Ready for some biking adventures this year? Share this page with your friends and get planning.