Bocce, biking and bands are just three reasons to get to know this fun mountain town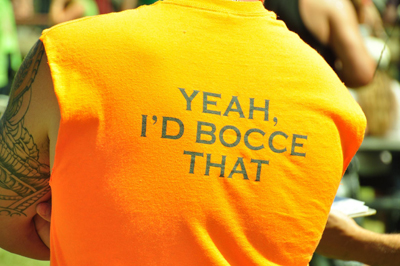 Participants take their bocce pretty seriously. It is the Canadian Championships afterall.
Photo provided by the Kimberley Chamber of Commerce
LEIGH MCADAM
KIMBERLEY, B.C. — If you can roll a ceramic ball on a strip of lawn that looks like a bowling alley, you can learn to play bocce in mere minutes — perhaps not well, but enough to have some fun.
Better yet, we like Mike Guarnery's summary of the event. "You can play bocce with one hand and have a beer in the other," says the manager of the Kimberley Chamber of Commerce.
This year, Kimberley's 43rd annual JulyFest happens from July 17 – 19. With a focus on the Canadian bocce championships, along with music by local bands playing from Friday through Sunday afternoon, and a Saturday night dance party/concert, it'll be unquestionably a time to rock and roll. 
"Julyfest creates buzz for the town and brings musical action it wouldn't see otherwise," said Natasha my server at Stonefire Pizzeria, which has a delightful patio. She and Mike both agree, that it's a reunion of sorts, with plenty of former residents and grads returning for the weekend.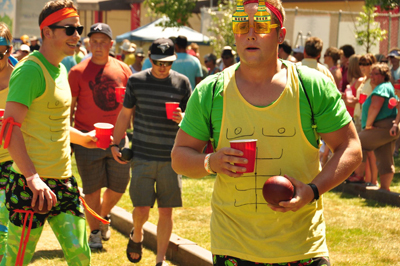 Get some friends together and make a team and don't forget the wacky costumes.
Photo provided by the Kimberley Chamber of Commerce
The bocce championships bring people from as far away as Ontario. With more than 200 teams entered in 2014 — all wearing the obligatory assortment of wild and crazy costumes — it's as much fun to watch as it is to play.
You can sign up online as a team of four or five people by July 10. If you lose two games you're out, but if you lose one game you drop down to the 'B' division. The good news — there are cash prizes to be won in both divisions.

Head to the Kootenay Rockies to experience true mountain town culture. Start planning your adventure here. 
Credit: Carey Cole Photography
The venue for live entertainment is adjacent to the bocce pits, so you won't miss out on the bands' 75-minute sets. Although the musical acts wrap up by 11 p.m. on Friday night, the music, though quieter, will continue until 1 a.m. On Saturday night, the concert and dance party happens in the arena next to the bocce pits beginning at 9 p.m. Featuring three bands, including local favourite, The Honeymans' with its fusion Celtic, Ska, Punk sound, continues into the wee hours of the morning.
Although bocce and music are the overriding themes of Julyfest, there are plenty of other activities to vie for your attention: a parade, tennis matches, a five- and 10-kilometre run and highly competitive soccer games. It'll be hard to miss the wild and crazy longboard course twisting its way down through town and around tight corners on Sunday.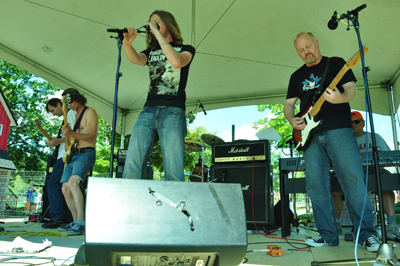 Enjoy some sweet entertainment, while you play bocce or hanging out on the lawn.
Photo provided by the Kimberley Chamber of Commerce
Then there's the food. Mike says vendors "offer everything from authentic Mexican to traditional Indian to pizza." Then there also plenty of restaurants in this town of around 7,600. 
Kimberley as a hiking and biking destination
Though not as well known as it deserves to be, Kimberley is also a great base for hiking and biking, especially because there's easy access to many of the trails from just about anywhere in town.
One of the standouts is Kimberley Nature Park with miles and miles of hiking and biking trails for all ages and abilities. Be sure to pick up a copy of Janice Strong's book  — Mountain Footsteps — to help pick the hike that's right for you.
A long history, spectacular location and easy accessibility for outdoor adventures, promises that a trip to Kimberley in southeast British Columbia will lead to happy trails of all kinds.
More info
As Kimberley' biggest event of the year, JulyFest delivers fun in spades whether you've come for the bocce, the beer, the music or one of the side events. Get the details from FestivalSeekers.com here.

For more information check out HelloBC and explore a mountain town trip idea.

Getting there: You can make a scenic road trip out of it or fly into the Canadian Rockies International Airport.
Like this story? Share it with your bocce-loving friends!