Get ready for a big and rich line-up of country music artists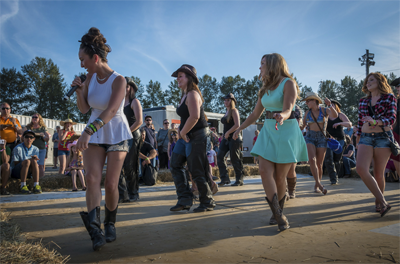 Wear your cowboy boot or your flip-flops, all we know is there will be dancing. 
Photo by the Rockin' River Music Fest
LISA MONFORTON
MERRITT, BC — Kenny Hess feels like he's coming home when he rolls into this little interior B.C. town. After all, this slice of pretty rolling countryside is Canada's Country Music Capital and home to the Canadian Country Music Hall of Fame.
Now, it's also the new home of the Rockin' River Music Festival.
"The second you drive into Merritt it feels like you're in the Country Music Capital of Canada," Hess says. Tweet This!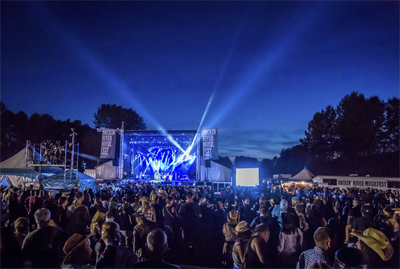 There will be a hefty lineup of first-rate acts, including Big & Rich and Lady Antebellum.
Photo by the Rockin' River Music Fest
Hess is an accomplished country singer-songwriter in his own right, and has shared the stage with the likes of Garth Brooks, Tanya Tucker and Brooks & Dunn. As CEO of Rockin' River Productions, he is also the man behind the festival.
The event features a hefty lineup of stars every year, because of his connections in the industry. This year, festival-goers will be treated to Lady Antebellum, Big & Rich and Dierks Bentley, just several of more than 20 bands on three stages.
Around 40,000 fans are expected to come, both for the impressive musical lineup and the location, says Hess. "It's a perfect location. All roads lead to Merritt — it's so central."

Enjoy what central B.C. has to offer — lakes and forests that will inpire you to explore. 
It's an hour from Kamloops and Kelowna, 2 ½ hours from downtown Vancouver and 7 ½ hours from Calgary. It takes place on 1,000 acres of land in what Hess calls the "picture perfect" Nicola Valley. There's plenty of camping on a large tract of land along the Clearwater River, with gorgeous mountain views all around.
"If you like anything to do with country music, you're going to enjoy the lineup," says Hess, including up-and-coming and traditional artists, like the Nitty Gritty Dirt Band.
"On the other side of the coin, there's Lady Antebellum and for the party crowd, Big and Rich," says Hess. "They're a blast. We've worked together, and they're definitely my favourite act of the show; they have so much energy."
Hess is choosy about who he brings in. "When I'm booking an act, they have to share my philosophy and that is make sure your audience is entertained."
It's all about creating an atmosphere, making it much more of a destination than just a series of mini-concerts. Besides the music, Hess says, they've created "Survivor" style activities to do during the day: human Foozball, scavenger hunts and different camps will compete wearing different colour headbands. "We offer as many activities as we can, rather than just to come and drink and watch music."
Thirty food vendors will offer everything from Italian food to southern barbecue and good old hotdogs and hamburgers.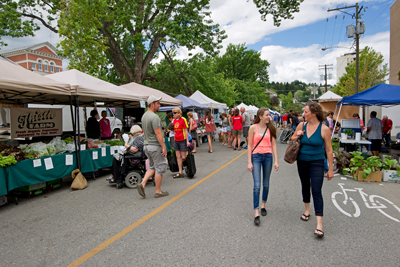 The area between Kamloops and Merritt has plenty of farmers' markets.
Photo by Kelly Funk
Charities will have booths set up and raffle draws to raise money for such causes as the homeless, youth and the firefighters.
There's something else important to Hess at each festival: Getting up on stage and playing with his fellow musicians. "Absolutely, I'm going to play on Friday, at 7:30, and I am looking forward to it."
Exploring the Nicola Valley and beyond
While the musicians will be playing their hearts out all weekend, festival-goers can add on playtime of their own outside of the festival to make it a true extended holiday.
The Nicola Valley is home to cowboys riding horses but it's also a mecca for the steed rider of the iron kind. Motorcycle riders love this area for its winding roads, lakes and ranches. Check out the Kamloops Tourism website for road-trip ideas.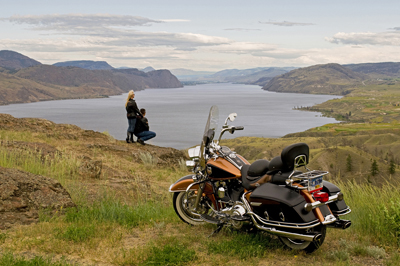 Motorcycle riders will love the winding roads around Kamloops and Merritt
with many beautiful vistas along the way.
Photo by Kelly Funk
If you're a spirits and food seeker, the area around Kamloops an hour's drive north along the Trans-Canada Highway, has created what it calls the Flavours Trail. It's a delicious road-trip-worthy route, with farmers' markets, wineries and craft brewers. Closer to Merritt, stop in for a chilled one at Left Field Cidery. Or, take Highway 5A, a little off the beaten path for scenic drive with lakes all around for fishing or just cooling your feet on a hot day.
More information
Thinking of going to the Rockin' River Festival? Share this story with your friends.