Brought to you by Prestige Hotels & Resorts. In 12 destinations across B.C.,
they make the perfect festival base camp.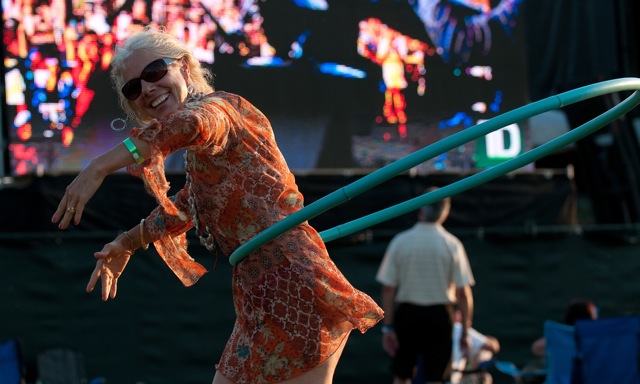 The Salmon Arm Roots and Blues festival is the main event in Salmon Arm during the summer, attracting thousands of people and an impressive lineup of musicians. Photo courtesy of Viktoria Haack. 
Salmon Arm Roots and Blues festival one of many events this summer
SHELLEY BOETTCHER 
SALMON ARM, BC - It's a beautiful summer night in Salmon Arm, and the streets are lively. Tourists — little kids eating ice cream, sunburned mountain-bikers, smiling retirees — walk around, relaxed and happy. Locals, too, get caught up with each other, and make plans for the upcoming weekend.
There is certainly plenty to see and experience in this small city, located on the shores of the beautiful Shuswap Lake.
About a six-hour drive from Calgary, and a five-hour drive from Vancouver, Salmon Arm has a population of about 17,000, but every summer, the number increases dramatically, as out-of-towners flock to enjoy the region's many offerings.
Take Wednesday on the Wharf, for instance. The 20th annual festival takes place — you guessed it — every Wednesday, June to August, from 6:45 to 8:15 p.m. You can check out an early-evening concert by fine Canadian musicians, including southern-style rockers Willhorse (July 3), singer-songwriter Greg Drummond (July 24) and celtic-rockers Cod Gone Wild (Aug. 7).
The Shuswap Quilters Guild is hosting the 20th annual Everybody Loves Quilts quilt show, June 7 and 8 at the Salmon Arm Convention Centre; more than 1,000 people attended in 2012, so expect a good crowd this year to admire the time-honoured art.
The free Canada Day Children's Festival kicks off at 9:45 a.m. on July 1 at the Salmon Arm Fall Fairgrounds. Stop in with the wee ones any time before 3 p.m. to enjoy wagon rides, activity tents, water games, clowns, live music, cake (it is our country's birthday, after all) and singing of the national anthem. While most activities are free, some cost 50 cents apiece. Every kid will get a free ticket for one game (face-painting, wacky hair, ring toss) and each kid who wears red will get a bonus ticket.
Then there's the impressive Salmon Arm Roots and Blues Festival, Aug. 16 to 18. Renowned Canadian musicians Bruce Cockburn and Daniel Lanois (who has worked with the likes of U2 and Emmylou Harris), as well as alt-rock favourites Jason Collett and City and Colour, singer-songwriter Harry Manx and blues vocalist Rita Chiarelli are just a few of the more than 45 musicians scheduled to take the stage throughout the weekend. (Take some extra cash for the popular food fair and artisan market, too.)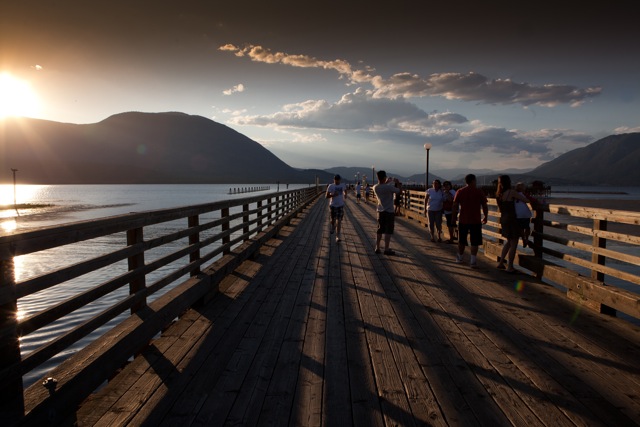 The wharf in Salmon Arm overlooks the beautiful Shuswap Lake and surrounding mountains.
Photos courtesy of Alan Jones, Shuswap Tourism.
Up for a drive? A little further afield, the Caravan Farm Theatre is a professional outdoor theatre group that puts on cool shows on an 80-acre farm about a half-hour drive from Salmon Arm. This summer, you can see the romantic comedy Head over Heels, from July 23 to Aug. 25.
Locals mark the end of the summer with a visit to the Salmon Arm Fall Fair. This year, the fun will take place Sept. 6 to 8, 2013 and there's literally something for everyone — a parade, midway, 4-H agriculture show, plus awards for best baking, canning and flowering wheelbarrows, even Lego.
Hungry yet? Stop in for a meal or two at Shuswap Chefs, a gem of a restaurant that regularly earns rave reviews for its eclectic, regionally inspired cuisine. The shepherd's pie is made with Crannog's Back Hand of God stout, brewed just down the road in Sorrento, and the wine list highlights a handful of fine B.C. wineries. Then consider visiting to a few of those wineries. You don't have to travel far: Recline Ridge Winery and Larch Hills Winery are located only minutes from downtown Salmon Arm.
If a picnic is more your noshing style, pick up fresh fruits, vegetables and baked goods at the All Organic Farmers' Market, every Wednesday, May to October, from 3 to 5 p.m. at the Deo Lutheran Church parking lot. Then find a spot — one of the region's myriad campgrounds, perhaps, or a grassy spot at Canoe Beach — to spread out a blanket and relax. Maybe take a nap, or just watch the clouds float by. Salmon Arm, after all, has a little something for everyone this summer.
Check out the amenities and packages at the Prestige Harbourfront Resort - Salmon Arm.
Story links:
Take a look at our picture slideshow showcasing the prestige destinations shared on FestivalSeekers.com. Each picture has a story attached to it, so click on the picture to make sure you don't miss out on all the great summer destination ideas.