Boyle Rodeo has a catchy, country feel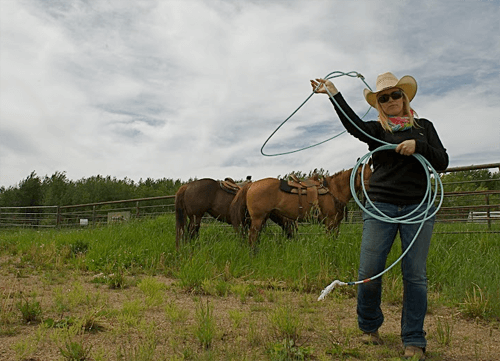 Not only is Ashtin Anderson president of the Boyle Agricultural Society, she's a competitive roper.
JEREMY DERKSEN
Flaring nostrils and galloping hooves bear down on me, as barrel racer Ashtin Anderson pushes Rocket Girl towards the gates.
"Am I OK here?" I ask, turning to Alienia Mitchell-Woroschuk. A competitive mounted shooter, she's come to hang out for the morning with us.
"Just be ready to jump out of the way," she says, with a shrug.
In the soft dirt of the outdoor arena, I'm not exactly sure how fast I can lunge. The little hairs on my arms are standing on end. The thundering gets louder. I shrink back against the fence rails as Ashtin reins in Rocket Girl just a few feet away.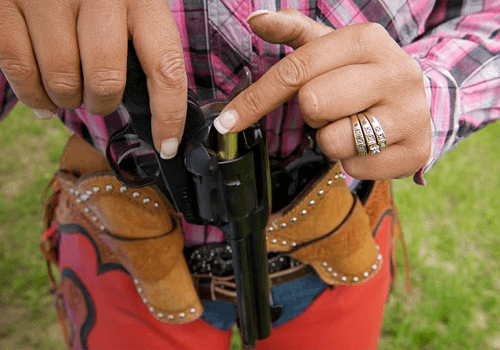 Alienia Mitchell-Woroschuk, a competitve mounted shooter shows Jeremy Derksen her classic Colt 45.
All photos by Jeremy Derksen
There's a certain rush watching these animals at top speed, muscles rippling as their riders coax all they can from them. As awkward as I feel in the dirt, these horses and riders are at home here at the Boyle rodeo grounds.
In this town of 800, most folks have rodeo in the blood. Anderson started riding when she was 18 months. She began racing at age 3. While competing on the mounted shooting circuit each season, Mitchell-Woroschuk lives out of a trailer she shares with Jack, her horse (separate sleeping compartments, of course).
While both enjoy getting out on the road to compete, the Boyle Rodeo is a highlight of their summer — and it's a party that lives up to expectations. Though it's steeped in heritage, recently a younger generation (that includes Anderson) has taken over the event and brought new life to this Lakeland region staple.

Anderson, seen here riding Rocket Girl, started riding horses at 18 months old and started barrel racing at age 3. 
In addition to the main events — barrel racing, calf roping, bull riding, saddle bronc and all the rest — this year also features a parade, concert, community garage sale and a rodeo school.
Mention of the rodeo school catches my attention. Since watching the Lone Ranger as a kid, I've always wanted to try my hand at cowboying. I've already had the weight of Mitchell-Woroschuk's classic Colt 45 in my hand. Why not try roping?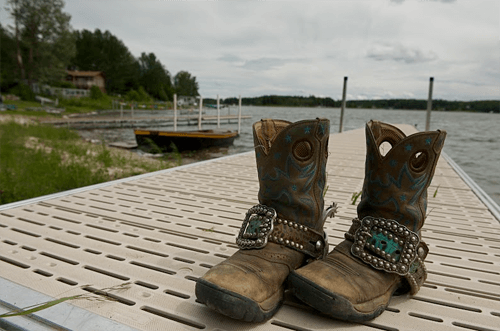 Kick off your cowboy boots and relax by one of 11 lakes in the area.
With a few pointers from Anderson, I'm soon twirling the rope around my head if not with ease, then at least with confidence enough to try a cast or two. But my technique isn't quite up to my target, a nearby water pipe. This isn't a game of horseshoes.
Still, throwing the lariat is somehow calming, and intriguing and exciting at the same time. Hearing the whip of wind each time the rope twirls, the whinnying of horses, long grass swishing under blue skies above, I find myself swayed by the local rhythm.
Lindsey Stanton was swayed by that same rhythm some 20 years ago, when her parents moved the family here for work. Now, raising kids of her own in town, she still likes to get out to the rodeo every year. There's a freedom and familiarity she finds here that she doesn't feel in the bigger urban centres.
"We're a really great community that comes together for everything," she says.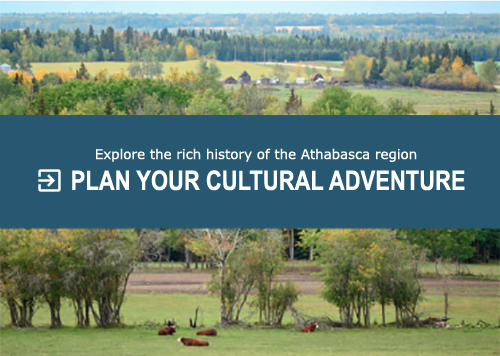 They also look forward to Fiesta Days (July 8 - 10), with its slow-pitch tournament, bubble soccer, axe-throwing and community dance. Then comes the rodeo (July 15 - 17), and after that, the Second Annual Northern Rebel Shootout, July 23 - 24 (Mitchell-Woroschuk's specialty).
With all the events packed into July, it's a busy month. But in between all the action, it's worth finding time to mosey into town and get an ice cream at Wildberry Bliss Park and Concession, explore the town's walking trails or play a round of golf. Not to mention, lakes in every direction where you can kick off your boots after a day's rodeo (or a morning's recovery, after dancing in the dirt to Julian Austin on Saturday night).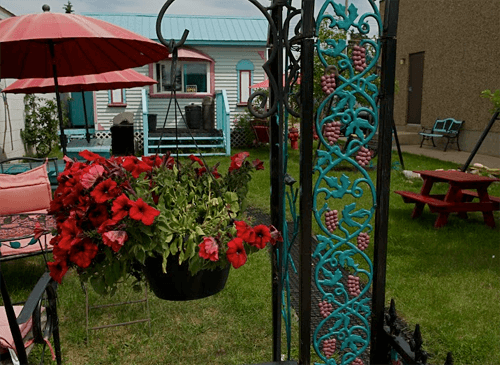 Be sure to stop by Wildberry Bliss Park and Concession for some ice cream. 
Whether rodeo's in your blood or not, you'll feel right at home in Boyle — stay long enough, and you might even get swayed by the rhythm yourself.
Additonal information
Did you know the Athabasca Train Station was built in 1912 and was a hub of activities for early settlers. Find out more about the Athabasca region here.
Share this page with your rodeo-loving friends and family.