While you're in town, treat yourself to ice cream and a local spirit
CHELSEA LEES
There aren't many places where you can watch the sun set over the Rockies while you're sitting on a midway ride. But you can in Cochrane.
If you're looking for a Western rural experience this summer, the Cochrane Ag Fair should be on your list.
Help your friends #DareToExplore. Share this page on Twitter.
Sitting on the edge of the foothills and the Rockies, Cochrane's activity- and event-filled Ag Fair, held from Aug. 18 to 20, is situated in a stunning setting.
Isabel Gimber has been with the Ag Fair since it began five years ago. She and her daughter team up each year to photograph the event, capturing scenes of giggling children and adults set against the beautiful backdrop.
Cochrane is home to the annual Ag Fair and so much more. Plan your adventure...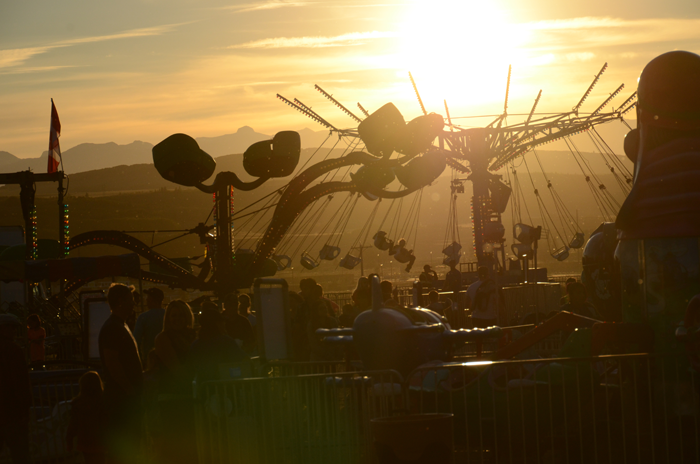 A view of the mountains as the sun sets from atop midway rides is breathtaking.
Photo by Isabel Gimber
"There aren't too many midways where you can get on these rides and watch the setting sun," explained Gimber.
The midway grounds are located with just that aspect in mind – a supreme view of the land on which ranchers have, for many generations, carved out a life.
"Our vision and mandate with the Ag Society is to bridge rural and urban and link to our heritage roots in ranching and equestrian."
Gimber describes the Cochrane Ag Fair as a mini version of the Calgary Stampede but more intimate because of its location in a small town.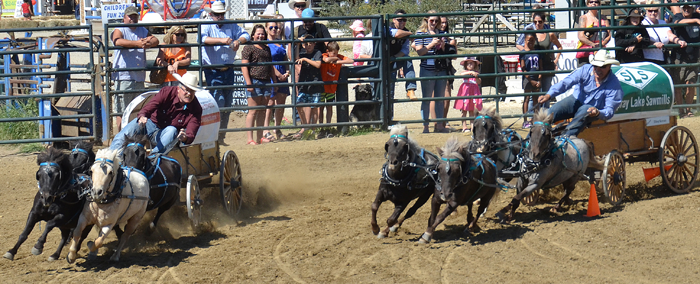 Kids line the arena for a miniature horse chuckwagon race, getting an up close and personal view of these hard-working little horses
Photo by Isabel Gimber
In addition to providing spectators with a unique view of the equestrian world, the fair also has a number of exhibits and events that give an insider's view of rural life.
Rabbit agility competitions, mutton busting, and prize-winning zucchinis? You may think you've wandered into an old-time state fair.
The beer gardens speak otherwise, but there's also a quiet space designated specifically for mothers and infants within the market place.
This year the fair is adding a lumberjack competition and bull-riding event, no doubt pumping some adrenaline into the weekend.
While you're in Cochrane, take a stroll along the historic downtown main street to check out what else Cochrane has to offer.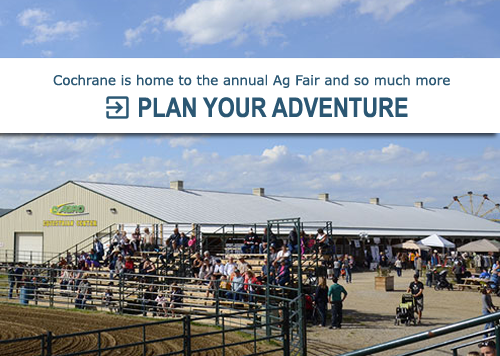 There's a good local vibe here as you walk around among the heritage buildings, where you're sure to see a long line of people waiting outside of MacKay's ice cream.
"People come to the fair and the stop at MacKay's for ice cream after," said Gimber.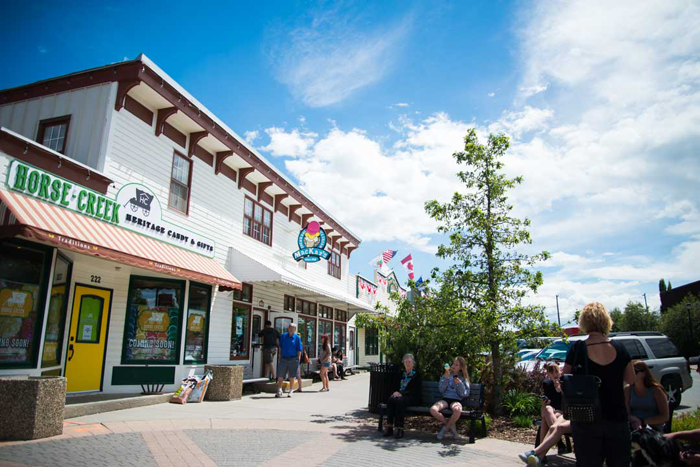 A trip to Cochrane isn't complete without a trip to MacKay's Ice Cream and Horse Creek Heritage Candy & Gifts on the main street.  
Photo by Chelsea Lees
On sunny weekends when the fair isn't on, families from Calgary and beyond make the trip to MacKay's for a big scoop of their favourite ice cream flavour – gluten free options included.
Right Next door, pop into Horse Creek Heritage Candy & Gifts to stock up on your favourite old-fashioned treats like locally made homemade fudge, made with real cream and butter, and the candies you may recall from your childhool. 
For something extra special for the adults, check out the stunning copper still located in Krang Spirits, a small-batch distillery also not far from MacKay's – where you can sample the boozy beverages.
This distillery uses local ingredients to create flavourful spirits inspired by the landscape, like sour cherry. Take a tour then figure out which one you want to bring home to make your own cocktails.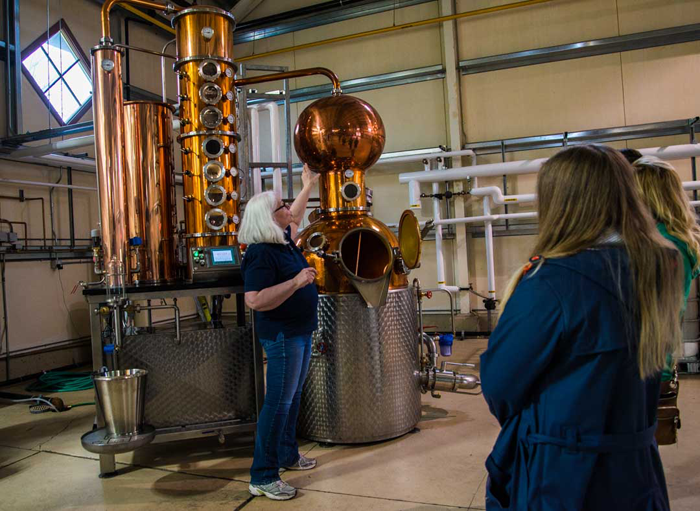 This copper contraption is responsible for some tasty fruit spirits. It's worth taking the tour from Susan who is a wealth of distilling knowledge.
Photo by Chelsea Lees
"When you are in a small community, we have a central core of people who are conscientious to shop local and support local," says Gimber.
"We are all trying to do that same thing of promoting local talent and local resources."
More Information
Heading to Cochrane for the fair? Make sure to check in at Cochrane Tourism's official website and find out all the amazing things to do in the area.
Are you ready to hit the fair? Share this page on Facebook.