Explore lakes, forests and trails while enjoying the region's summer festivals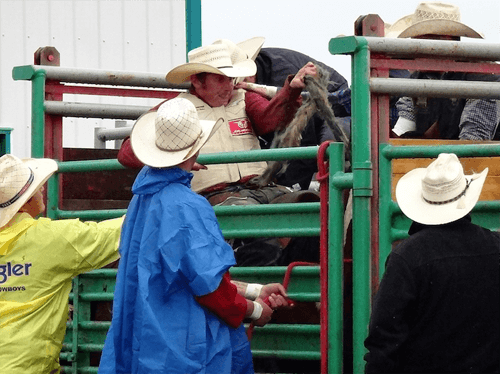 Get ready for fast-paced rodeo action in the Lac La Biche region. 
Photos by Sheri Landry
SHERI LANDRY
LAC LA BICHE, AB - When Phyllis Arsenault goes to the Lakeland Country Fair and Open Rodeo she feels like she's stepped into a time machine.
Help your friends #DareToExplore this summer. Share this page on Twitter.
"The fair brings me back to the old times, when people used to enter their crafts and produce to be judged, and ribbons were won," says Arsenault, director of the Lakeland Ag Society and coordinator of the county's fair's horticulture and handicraft show.
The fair by day has all the traditional events that hearken back to simpler times but with the added adrenaline rush of the Open Rodeo which begins each night at 7 p.m.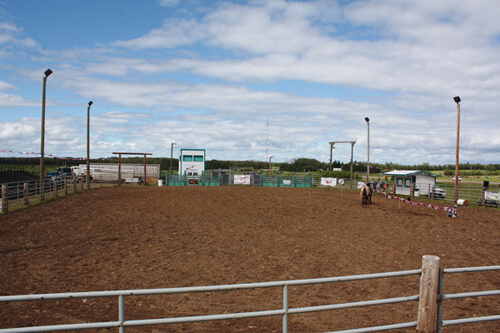 The grounds are ready for the rodeo events, beginning July 29.
Before the fast-paced rodeo fun begins, creative cooks, crafters and gardeners kick off the weekend showing off their talents at the horticultural bench show. An array of produce, flowers, crafts, homemade baked goods, produce are brought to Lakeland Agricom to be judged on Friday and where the cash prizes and ribbons are awarded.
Arsenault will judge two of the kid's levels at the fair, and that brings back fond memories for her.
She recalls taking her own children to the fair where they entered crafts for judging. They'd win their cash prizes and then promptly spend it on the rides and other fair treats.
But there's also plenty of other activities for kids, including a petting zoo, play area, bouncy houses and a magician will make an appearance.
The fair wouldn't be complete without the country barbecue and live local musicians playing tunes "on the porch."
After dinner, it's time for some rollicking rodeo showdowns, which begins each night at 7 p.m. at the Arthur and Anita Cadieux Agricultural grounds. Bronc, bareback and bull riding along with various roping events are on the agenda.
Another not-to-miss event, the Lac La Biche Pow Wow Days happens be going on during the same time as the Lakeland Country Fair and Open Rodeo this year. So you might as well plan to stick around for it all, not to mention the regions beautiful lakes, camping, hiking trails, and farmer's market.
Farmer's market
If looking at all of the bench show entries at the Lakeland Country Fair whet your appetite then be sure to stop by the farmer's market located next to the Agricom building on Friday. Stock up on locally made goodies like fresh produce, jams, honey and desserts or shop for homemade crafts and unique items. Chances are you'll find plenty of items to fill your picnic basket for a little beach time.
Trails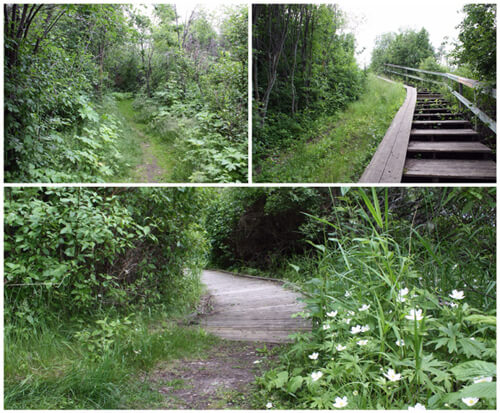 Enjoy the many hiking and biking trails for all ages and abilities in around Lac La Biche. 
If you overindulged in fair food, you can easily hike or walk off all those extra calories on the Lac La Biche region's many trails. Ranging from easy to moderate, there is a trail for everyone. A favourite local trail leads from Lac La Biche to Sir Winston Churchill Provincial Park and winds 12 kilometres along scenic Lac la Biche.
Sir Winston Churchill Provincial Park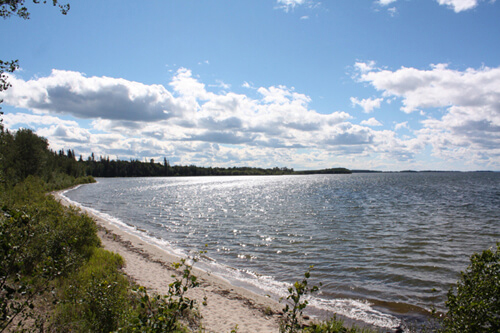 The beaches at Sir Winston Provincial Park are perfect for swimming and boating. 
Sir Winston Churchill Provincial Park is located on an island near Lac La Biche, the only provincial park on an island in the province. It's must-stop for anyone who wants the ultimate outdoors summer experiences. Hit the hiking trails amid the old-growth forest, take a dip at the beach at the day use area or have a picnic. The hiking trails range from easy to moderate with some hilly sections and there's also a public play area for kids. You can even take a short drive around the island and try to spot some of the more than 200 bird species in the region.
Make a holiday out of it by camping at one of the 72 campsites suited for RVs or tents. The beach area has a kids' playground and canoes, kayaks and paddleboard can be rented.
If you'd rather stay close to town, there's also a spray park by the lake.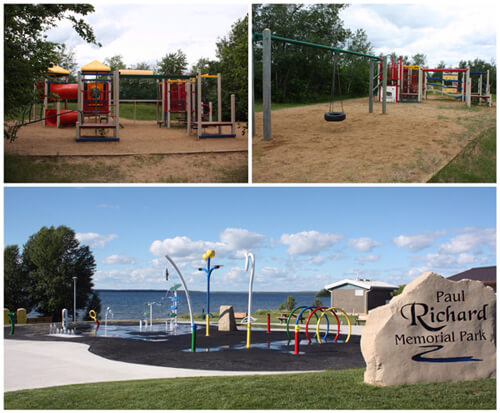 Enjoy kid-friendly activities like the spray park.
If You Go
Check out the 

Bonnyville Rodeo

 while your at it

Ready for the country fair? Share this page with your friends and get them excited too!