Historic Medalta Potteries venue fires up the acoustics for a great lineup of bands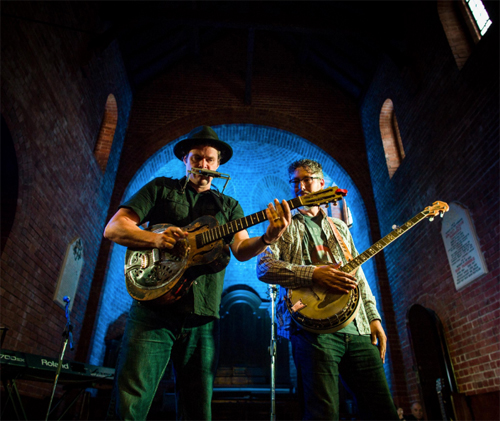 Medalta Potteries is the perfect folk music venue for soul-stirring  music in the depths of winter.
All photos by the Tongue on the Post Festival
Elizabeth Chorney-Booth 
MEDICINE HAT – The dead of a Southern Alberta winter hardly seems like the ideal time for a music festival. Most of us equate music festivals with lounging in front of an outdoor stage under a hot July sun, not hustling from the car into an indoor venue in the middle of a January deep freeze. 
Help your friends #DareToExplore. Share this page on Twitter.
But winters in Canada are long and most music fans don't want to wait until the weather thaws to enjoy the energy and special performances that come with a traditional Western Canadian music festival.

Enter Tongue on the Post, an annual festival organized by the Medicine Hat Folk Club. The festival has been running for a decade, bringing folk acts from across Canada to Medicine Hat for nearly a week of indoor performances. Tongue on the Post features about 50 shows scheduled throughout Medicine Hat and bringing musicians and music lovers out of their winter hibernation.
Get ready for an incredible winter festival! Get your Tongue on the Post Festival tickets today.
"The festival circuit in the summertime is so extensive," says Tongue on the Post Executive Director Rob Pape. "Our festival is an opportunity to give musicians a chance to keep working in the winter and to give people in the community something to do and someplace to go."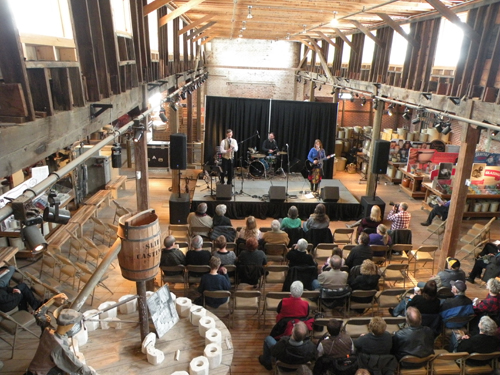 The landmark Medalta Potteries brings music lovers in from the cold during Tongue on the Post. 
The bulk of the performances take place in Medicine Hat's historic Medalta Potteries building, one of the city's most important landmarks and cultural hub. The venue hosts an opening night open stage, 16 concerts on four separate stages on the Saturday, and the popular Saturday evening headliner gala. This year it features performances by Ryland Moranz, Gordie Tentree with Jaxon Haldane, and Samson's Delilah.
"Medalta is just a magical place to be," Pape says. "We hold this festival in a working pottery museum and the walls just bleed soul. You walk in there and you can feel the warmth of the history. One of our stages, which is very sought-after by the musicians is in an old brick kiln. The acoustics in there are second-to-none and we can seat sixty to seventy people in there for very intimate shows."
Shara Gustafson played last year's festival with folk favourite Linda McRae and she's returning this year with her own group, the Dunster, B.C.-based Samson's Delilah. She loves the opportunity to enjoy all of the camaraderie of a music festival without having to wait for the summer.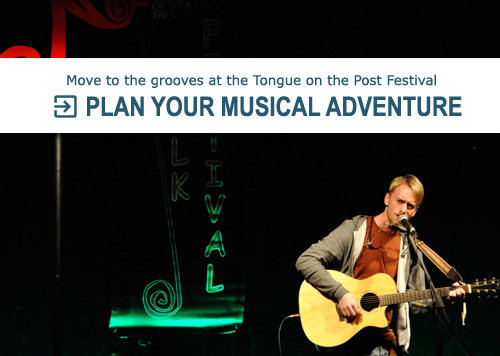 "It's different because it's indoors so everyone is gathered in one place rather than wandering around," Gustafson says. "But you get that same feeling of celebrating communities that love music. People are smiling and just happy to be there. It always feels amazing to be part of something special like that."
For people who do like the wandering aspect of a festival, other venues in Medicine Hat also offer select concerts: the Silver Buckle pub will host a pre-festival kickoff party on the Thursday night featuring Northcote from Victoria, B.C. and on the same night the festival will hold a special Supper and Song event with dinner followed by a performance by the New North Collective. There will also be select shows at coffee shops in downtown Medicine Hat. The idea is to create a feeling of community that will add some warmth to the Medicine Hat winter.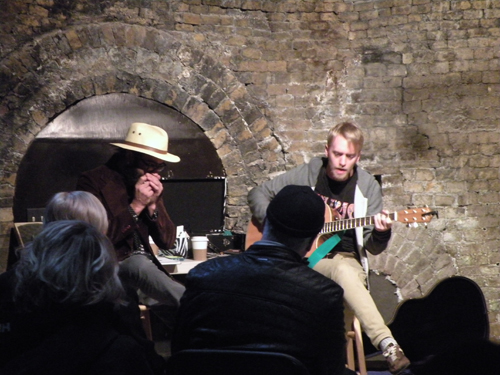 The confines of the kiln room provide amazing acoustics. 
"Medicine Hat is definitely an arts and cultural centre," Pape says. "With having a lot of agricultural businesses based out this way, we have a lot of people who have a little more spare time on their hands come winter, given that the crops are put away for the winter. We're given a unique opportunity with this festival."­­­­­
If you go:
The Tongue on the Post Festival runs from Jan, 23-28, 2017 at Medalta Potteries and other venues in Medicine Hat, AB. For more information and a full schedule of performances and participating artists, visit topfest.ca.
For more information on where to stay and eat, go to http://www.tourismmedicinehat.com/
Make sure to check out our Festival Overview for Tongue on the Post and see this year's line up. 
While you are exploring Medicine Hat, make sure to stop in for a coffee. Read all about the coffee scene in the Hat here.
Are you ready to hear some fantastic folk music at the Tongue on the Post Festival? Share this page with your crew and start planning your winter festival experience!