Dive into some delicious eats in the Okanagan.
Photo by Rebecca Coleman
REBECCA COLEMAN
SOUTH OKANAGAN, B.C. - If you are a bike enthusiast like me, but perhaps a bit of a fair-weather biker (also like me), then biking the Kettle Valley Railway trail is something you need to put on your bucket list. Check out our Festival Overview for the Okanagan Chain of Events and get ready to ride. Tweet This Page!
While the entire trail (which is now integrated as part of the Trans Canada Trail) is about 600 km all together, you can jump on and jump off if you like an easier ride, or you can bike the entire thing if you crave something more challenging.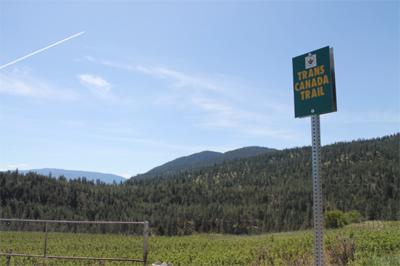 Heading out on the Trans Canada Trail.
Photo by Rebecca Coleman
The KVR is great for families and more casual bikers, as you'll never find a grade steeper than just over 2 per cent. And the views! This is truly a unique experience for nature enthusiasts.
It's also a great foodie experience. There are few places in Canada that boast the kind of offerings you can find in the Okanagan - fresh, seasonal fruits, sun ripened and juicy, local wines harvested from the fields you will pedal past, and lots of great barbeque.
There are, of course, large chunks of the trail where you won't have access to grocery stores or restaurants, so it's important to pack trail snacks and water. But there are quite a few places you can pick up a picnic or sip a glass of cold Viognier on a sun-drenched patio.
Summerland
This is the only chunk of the KVR that still has a train operating on it. Cycling this portion of the trail at the right time of the day will mean riding adjacent to a heritage train that operates along a 10-km stretch between Prairie Valley Station to Canyon View Siding. Learn more about Summerland here.
Summerland Sweets
Just behind the Canyon View station, you'll find Summerland Sweets. Various delights await, including locally made jams, jellies and syrups, Sleeping Giant Fruit Wines, and ice cream. Grab a cone to fuel your journey, and some syrups or wine for later.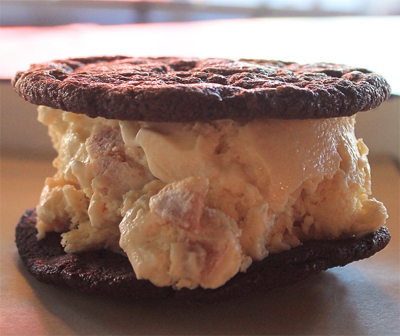 Nothing is sweeter than an ice cream sandwich.
Photo by Rebecca Coleman
Dirty Laundry Winery
Just off of the KVR, you'll find Dirty Laundry Winery. They have a fantastic patio, looking out over the vineyard, and the KVR. Here, free picnic baskets are provided for you to fill with cheeses, meats, breads, crackers, olives, and other charcuterie. They also have pre-made sandwiches, and you can buy a bottle of wine or just a glass to enjoy outside.
Penticton
Il Vecchio (off the trail, in the town)
Il Vecchio is one of those places I am reticent to tell anyone about because it is a true hidden gem. It's an old-school Italian deli. You go in, line up (there will be a line), and then they make your sandwich for you, based on what you like. You can order two kinds of meat from their case, and one kind of cheese, plus grainy mustard, mayo, and veggies. This will cost you the princely sum of $5, and may be the best damn sandwich I've ever eaten.
 

A photo posted by Rebecca Coleman (@rebeccacoleman) on Aug 10, 2015 at 1:14pm PDT
Brodo Kitchen (off the trail, in the town)
Chef Paul Cecconi, formerly of Local Lounge in Summerland (highly recommended) started this cheerful café a few years back. His philosophy is local, local, local, and the food is outstanding. He mainly sells grab-and-go items like soups, salads and sandwiches. If you have time, be sure to indulge in an ice cream sandwich made with Chef Paul's homemade cookies and local Gorgeous George's Ice Cream. The Chocolate cookie with Bacon Ice Cream is off the charts.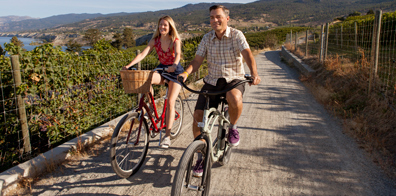 Like the idea of biking and wine tasting in the South Okanagan? Start trip planning here. 
The Bench Market
Just out of Penticton, on your way up to Naramata, be sure to stop at the Bench Market. It's a favourite coffee stop of the locals, don't be surprised to find some of the local winemakers hanging out here. The food is fresh, local, sustainable, and gorgeous. Breakfasts, sandwiches, baking and salads are all available to eat in, to go, or to eat just outside on the picnic tables. Start planning your trip to Pentiction.
Naramata
Hillside Winery & Bistro
Like Dirty Laundry, Hillside is "KVR adjacent." Here, you can get a full-service meal along with wine. They serve lunch and dinner. It's the perfect place to wind up a long day of cycling over a beautiful meal and a glass of the local grapes.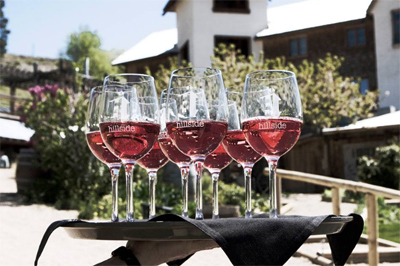 Hillside is home to fantastic wine.
Photo by Hillside Winery and Bistro
It's the whole package: the great outdoors with sweeping views, locally made wine, and some of the best, freshest food you will ever have. Without the hassle of traffic jams, and with the added bonus of exercise, so you can absolutely not feel guilty in indulging in that ice cream sandwich! Learn more about Naramata.
Additional information
Read our FestivalSeekers overview about the area's "Chain of Events" over the next coming months. 
Home to some of the best biking in Canada, the South Okanagan is a standout destination to ride. Find out more.
Are you heading to the South Okanagan for some cycling? Check out the the area's hotels, motels & resorts.
With a name like Summerland, the area is a perfect place to spend your summer months. Find out more.
Did you know Naramata is full of gorgeous beaches and wineries? Learn more about the area here.
Ready for some biking adventures this spring? Share this page with your friends and get planning.