Whistler brings out a Cornucopia of the finest in British Columbia cuisine and wine. Local and regional restaurants, breweries, distilleries, wineries, chefs and producers are featured in the premier gourmand gathering of the west coast. With dozens of wine and food events, the 17th annual celebration has something for every palate. 
Among the many highlights are watching and learning from food and drink industry professionals. Sip, sample and savour some of the offerings of B.C. and beyond - all in the beautiful setting of Whistler Village.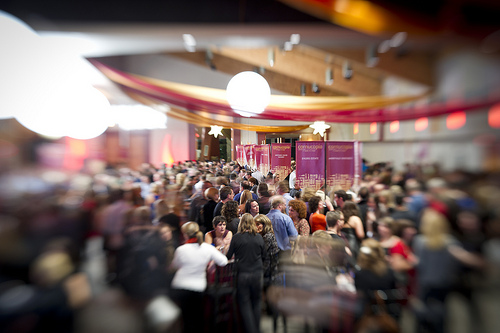 The CRUSH Gala Grand Tasting.
Photo by Mike Crane, courtesy Tourism Whistler
Meet experts, including Michelle Bouffard, Keith Nicholson, Paul Watkin CSS and Lauren Mote. 
Schedule of Events
From seminars to food and wine events to presentations, there's so much going on that Cornucopia decided to extend the 10- day event to 11 days. Presentations are  informative and cover interesting topics, including Hair of the Dog Cocktails and Why They Work and Spanish 101 and Argentina: More than Malbec.
Top B.C. chefs go head to head to win the prestigious title in the Whistler Chef's Challenge on Nov. 7 and 8, and the House Party on Nov. 7 is one of the hottest events of the year.
Event admission and tickets range from free to $100, depending on the event. 
Check out the full schedule page on the Cornucopia website
Look to the right-hand sidebar for the latest updates from Cornucopia's Twitter and Facebook Feeds.
Unless otherwise specified, all information about Cornucopia Presented by BlueShore Financial has been provided by festival organizers.