A 40-foot ice wall is one of the main events at the SnowDays Festival in Banff, which runs until Feb. 10.
Photo courtesy of Joanne Elves, SnowSeekers
JOANNE ELVES
BANFF, ALTA. - Even the biggest, toughest fella gets all lovey-dovey when six of the cutest husky puppies come in for a cuddle. At the third annual SnowDays in Banff, you too can crawl in for puppy kisses. But don't stop there; everywhere you turn in Banff National Park there are free or reasonably priced activities.  
The ultimate kick-off to the month-long event begins on Jan. 10, 2014 with The Big Bear event that combines street party with terrain park showdown. On Banff's Bear St., pros perform tricks on custom designed ramps and rails. For $10 you get into the event and the Aurora Nightclub's official after party.
If you've never been to the Aurora before you'll want to read about it here.
Special to this year's festivities is The Canadian Olympic Team Block Party, hosted by CBC's George Stroumboulopoulos. Juno Award-winning bands The Sheepdogs and The Arkells will also be there to celebrate and honour Canada's Olympic hopefuls with the crowd as the athletes ready for Sochi 2014.It happens in the heart of downtown Banff on Jan. 11 with an expected start time of 2 p.m. to 5:30 p.m..
Yet another new event is TSN's annual Skins Game on Jan. 11 and 12. World-class curlers showcase their talent at The Travelers All-Star Curling Skins Game presented by Pinty's.
Main Street Banff and Lake Louise turn into a festival of winter activities. Everything from the sled dog kisses to climbing 40-foot towers of ice are there to discover. There are activities every day, but the weekends are when everything ramps up.
Each weekend, Banff Central Park (near the Banff Park Museum) is your starting zone, where throughout the day and sometimes through to the night activities (some free) include:
Hanging out with the puppies and the big dogs from Snowy Owl Sled Dog Tours. Yes, that's where big guys turn to mush. But you can also learn more about guiding your own team through mountain meadows.

Sit inside the warm Fire Nations Tipi in Banff Central Park and hear fireside stories and learn of the early people's cultural heritage.

Have you ever cooked bannock by wrapping the dough around a twig and sticking it in a fire? Most of us haven't, but give it a try at the Cave and Basin Discovery Camp set up near the Banff Park Museum.  A camp replicating what it was like for the railway crews of 1883 is hosted by park interpreters dressed in period costume. It's a great opportunity to see how harsh conditions were before polar fleece and Gortex were invented.

Want to learn to snowboard or ski? Instructors from Sunshine Village, Mount Norquay and Lake Louise have created a mini slope next to the free hot chocolate at Banff Park Museum. Step up and give it a try.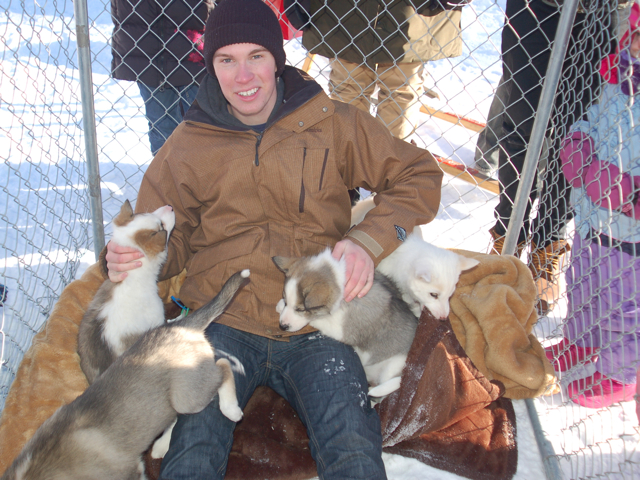 Clay Wearmouth gets some cuddles with some Husky puppies from Snowy Owl Sled Dog Tours during SnowDays.
Photo courtesy of Joanne Elves, SnowSeekers
Get in the thrill of tracking animals in the Tails of Toes and trails event. Families will have fun as they learn about tracks that reveal animal activity.

If you get the sudden urge to ice skate, stop by Banff Avenue's outdoor skating rink. There will be an expert skater there to share basic skills to new skaters. You can rent skates and helmets within the townsite.

The tough guys can redeem themselves by strapping on a pair of crampons and swinging ice axes at a 40-foot tall wall of ice put on by Yamnuska Mountain Adventures. Each day on the weekends from noon to 7 p.m. (as long as a Chinook doesn't melt it again), free ice climbing lessons are offered to anyone who steps up to climb. Check out or exclusive coupon for 10% off your next ice climbing adventure with them.
Other events:
Jan. 17 – 19 The annual Ice Magic Festival in Lake Louise Village and at Chateau Lake Louise has become an iconic event where ice carvers from around the world come to create masterpieces in ice. Park at the village and take the free shuttle up to the Chateau.

To celebrate the FIS Snow Day, free lift tickets are available at Lake Louise Ski Resort for children ages 12 and under, on Jan. 18 and 19.

Enter your team for the Take It to the Street ball hockey tournament on Feb. 8 and 9. Check out our story on Take It to the Street for more info.
Keep in mind, that's just a taste of the heaps of snow-fun the festival has planned. Check out the full schedule to find the right activity for you.
Story Links:
Banff Lake Louise Tourism
Yamnuska Mountain Adventures
Snowy Owl Sled Dog Tours
Sunshine Village
Mount Norquay
Lake Louise
Banff Park Museum
Ski Big 3