Medalta Potteries is a unique part of Medicine Hat's past and present. 
Photos by Jeff Bartlett
ELIZABETH CHORNEY-BOOTH
MEDICINE HAT, AB. - Many Alberta cities and towns were famously built on either agriculture or energy — from mining and oil boom cities to communities supporting grain and cattle farmers. So much of the province grew from creating fuel, either for humans or machines.
But, thanks to bountiful natural gas reserves, Medicine Hat had enough local power to develop a fertile manufacturing sector — namely the manufacturing of bricks, tile, and pottery. One of the cornerstones of Medicine Hat's pottery industry was Medalta Potteries, whose facilities still stand in Medicine Hat's Historic Clay District – one of Canada's National Historic Sites in Alberta.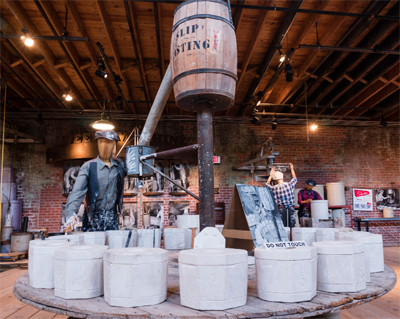 Medalta Potteries is a National Historic Site.
The sprawling brick Medalta building is now a National Historic Site and acts as a museum, a gallery space, a facility for working artists, and through the Market at Medalta on Thursday nights, a bustling community hub. Best of all, it's a living piece of history where visitors can get a real feel for the culture of Medicine Hat, both past and present.
The Medalta legacy
Medalta's museum space gives guests the opportunity to take a stroll through the large round kiln rooms and take in the original brickwork throughout the building. The museum showcases dusty equipment used in the original factory (which dates back to 1912) and products created by the company over the years, ranging from iconic crocks and bean pots to seamless (and thus superiorly sanitary) coffee mugs issued to Canadian soldiers during the Second World War. The hundreds of pieces of vintage Medalta pottery housed in the Tony Schlachter Collection, including familiar objects that were once commonplace in many Western Canadian homes, have caused a surprisingly emotional reaction from many museum-goers.
"The people who have experienced the product before, they remember when Aunt Jane had a Medalta cup in her kitchen that they would sit at the table as kids and drink their hot cocoa from," says Barry Finkelman, Medalta's executive director. "Pottery is very tactile. And because of that, they get lost in the shape and the feel and have a sense of connection because this is what they grew up with."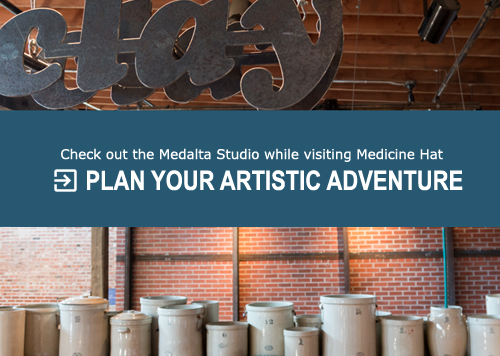 The future of pottery
In a large studio just off of the main exhibition area of the museum, artists work to make historically accurate pieces with original equipment, which are later sold in the gift shop. But Medalta also acts as an incubator for more contemporary ceramic artists. The facility offers classes for children and adults, but even more importantly, hosts several artists in residence, who drink in the site's history and use that inspiration to create modern pieces of pottery. While many of the new pieces use electronic elements and new techniques, what these artists do is always at least subconsciously rooted in the history of what has come before them in the Medalta plant.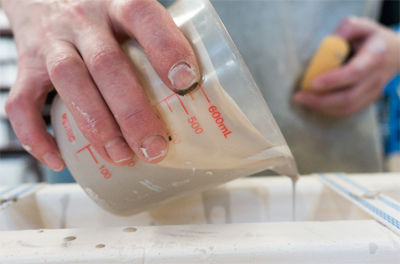 Resident artists from around the world come to Medalta and are influenced by the history.
"There really is a phenomenal artistry involved," Finkelman says. "Our resident artists come from around the world and they're affected by the historical images that they're seeing and by the quality of the work that was done by the original artisans who were just working to put food on their table."
And all of it — original dishes created by Medicine Hat's working class of days gone by, as well as cutting-edge pieces made by combining 3D printer technology with work made on hundred-year-old jigger machines — is there to see and experience.
Medalta is open year round in Medicine Hat's Historic Clay District. For more information, visit medalta.org.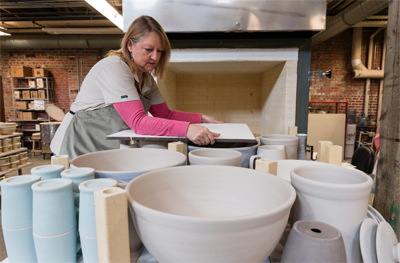 Gorgeous pottery pieces both new and old are found at Medalta Potteries.
When you visit Medicine Hat 
Medicine Hat is full of fun things to do from swimming at Echo Dale Park to golfing during a delightfully long sunset. Of course you need fuel - as in caffeine. Check out Elizabeth's story about the coffee tours here. For more ideas for activities visit the Tourism Medicine Hat webpage.  
Medicine Hat is less than a three-hour drive southeast of Calgary.
Ready to get artsy? Share this page with your pottery-loving friends.