PAULA WORTHINGTON
After visiting countless Calgary Stampede rodeos, I vowed never to get on top of a bull. That all changed when I visited the 2012 Cochrane SummerFest on a hot July day.
I should clarify – I didn't get on for the sake of making it to eight seconds. My first-ever "bull ride" came after a welcome encounter with the famous and massive Willie; a Holstein – Angus – Brahma steer, weighing in at over 2,800 pounds.
Owner Doug Rogers explained that Willie has always been docile, and even let me up in the saddle for a few moments. I think climbing on top of the monstrous animal (thanks to a boost from Rogers) was more challenging than mustering up the courage to stare over some sizable horns from atop the beast. Rogers explained that 10-year-old Willie eats upwards of 80-90 pounds of hay per day and is often seen at festivals, rodeos, and some of North America's top parades.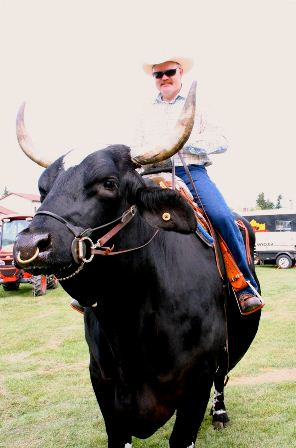 Paul Rogers is dwarfed by his massive steer - Willie
Photo by Paula Worthington
Willie was just one of many surprises in store for visitors to Cochrane's SummerFest. This year's second annual event also included the 10th annual Cochrane Classic Bull Riding event, followed by a party and live music which lasted well into the evening.
According to Event Director Brooks Hunter, organizers expected upwards of 2,000 visitors throughout the afternoon and evening, and provided great activities for all ages throughout the day. "Cochrane's SummerFest is like a good, old-fashioned country fair," said Hunter. "We bring together families and community for fun and entertainment."
This year's event continued to grow from its inaugural year, and the enthusiastic crowd seemed to indicate that SummerFest will continue to grow for years to come.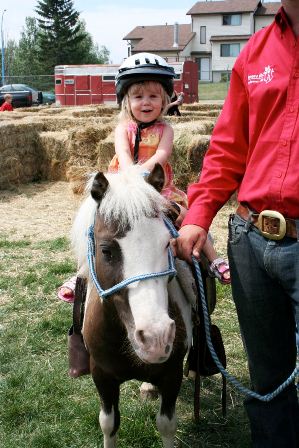 Enjoying her first Pony ride
Photo by Paula Worthington
Cochrane SummerFest showcased some of the best of the west – bulls, beer gardens, pony rides, paintball competitions, hay mazes, those delectable mini-donuts and of course Cochrane's own legendary MacKay's ice cream. Families had the opportunity to learn how to live like a cowgirl or cowboy thanks to the folks at Wineglass Ranch who provided interactive activities commonplace on ranches throughout Alberta. Participants could learn where their beef comes from, how to lasso a calf, and all about ranch brands.
The event's afternoon crowd included families of all ages; from toddlers all smiles on their first pony ride, to teenage competitors preparing for the afternoon's miniature bull riding competition.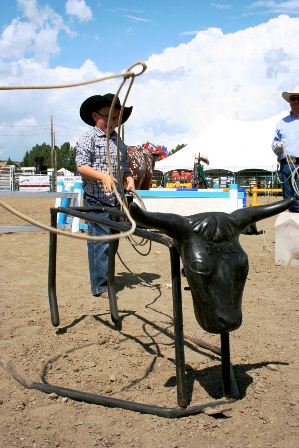 A young cowboy tests out his calf roping skills
Photo by Paula Worthington
Organizers expected crowds to continue to swell into late afternoon and evening for the Cochrane Classic Bull Riding event and Evening Country Dance featuring the talented Bow River Band.
I regretted that I couldn't linger on into the evening to see the festival really kick into action, and will certainly mark Cochrane SummerFest on my own social calendar for next year.
As a Calgarian, after a busy Centennial Stampede, Cochrane SummerFest was a refreshing break while still enjoying classic rodeo and country fair style activities. Cochrane is always worth the trip, but Cochrane SummerFest is a not-to-miss outing for a great taste of the west – and that's no bull.