Taste event showcases Vermilion's small but passionate creative scene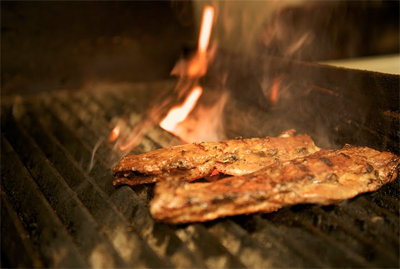 Ribs on the grill? Yes, please. Anthony of Anthony's Classic Grill has a passion of good food.
Photos by Jeremy Derksen
VERMILION, AB - Flames lick the rib tails as they fall onto the grill, sizzling. The coleslaw isn't going to prep itself, so while the meat sears I dive in. It's my first ever shot at being a line cook but I'm in good hands with Anthony MacPhee, the owner and chef of Anthony's Classic Grill in Vermilion. Share this page on Twitter.
In the five years since opening, the restaurant has established a reputation as one of the town's best — a testament to Anthony's passion for food. The restaurant is one of the anchor establishments at the second annual Taste of Vermilion on June 30, part of the town's pre-July 1 Canada Day celebrations.
Of course, lots of chefs have been inspired to open a restaurant because of a passion for food. But few have managed to convert a love/hate relationship into a marriage in the process.
"We worked together (in the same restaurant) for 10 years, and I hated the ground he walked on," his wife and partner, Tally, recalls. "And he felt the same way."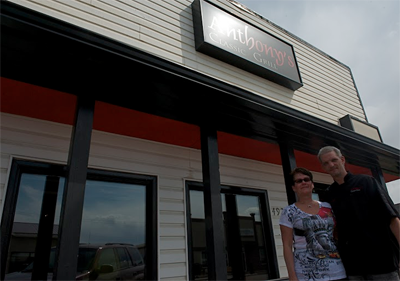 It wasn't love at first sight, but Anthony and Tally eventually bonded over a love of great food. 
Until one day, Anthony quit. He announced plans to open a restaurant and asked Tally to consult on his wine list. "So he shows me his menus … and it totally blew me away," She says. "I say, wow, 'you do have something there.'"
From that moment, things were different. Now the two are inseparable. "It's just the two of us," says Anthony, about their small operation. "We push each other; she sees something she doesn't like, she tells me. I see something I don't like, I tell her."
"Which is not often," he quickly adds, smiling.
Anthony and Tally's story is indicative of a small but passionate food scene in Vermilion. Chefs and artisans in Vermilion have staked their niches on food and flavours that are special to them, as evident in their dishes.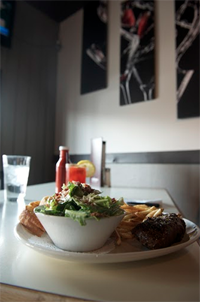 Anthony's Classic Grill serves up fine comfort food. 
Last year's Taste event featured fare from Serotonin Chocolates, Baba Jenny's, Sammy's Pizza and The Cheesery, among others. This year, organizers are anticipating an even better showing, says Candice Anderson.
Anderson is the coordinator of the Good Life Institute, a local organization that is helping inspire "new ideas for living" in Vermilion. Other highlight events the organization presents include, Amazing Race Vermilion, Art in the Park and Savor, a wine, beer and spirits pairing evening.
Small town big on creativity
There's a lot going on for a town of just 4,500, and that's just scratching the surface. Lined with classic red brick buildings and wood-panelled storefronts, nothing higher than two stories, Main Street has a distinctly Alberta prairie feel. But wall murals, a yoga studio, eclectic shops and a brightly decorated outdoor piano all reveal a growing creative side to the community.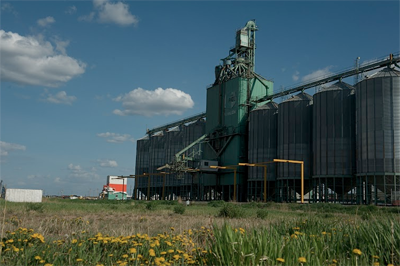 Vermilion may look like just another prairie town, but it's got a lot going on. 
Still, part of the town's charm is its strong roots. At the Vermilion Heritage Museum down the road, volunteer museum guides give their guests a chance to try out old typewriters, rotary phones and even a grain-sifting machine.
Sports have also played a key role in town development — being home to Olympian Becky Scott, namesake of the local Nordic centre. Nordic skiing has left a series of trails stretching 10 kilometres along the Vermilion riverbank, in Vermilion Provincial Park.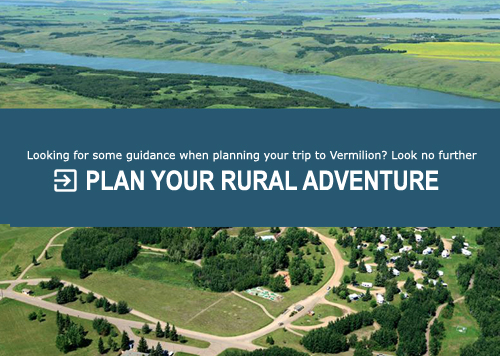 Birding is a popular activity in the park as well. Over 100 species of bird were counted in last year's spring count, reports Charlotte Wasylic, president of the local naturalist society, including great blue heron, pelican, warblers, ducks and more.
The young birder carries a telescope and binoculars along the trail with her, and when a mallard takes flight from the bushes just ahead, she steps carefully into the long grass. There, she finds a duck's nest filled with eggs.
Coming back towards the trailhead, we step into a clearing. Here is the site for Taste of Vermilion and the Town's pre-Canada Day evening celebrations, including live entertainment, an outdoor movie and fireworks.
For now, it's quiet — but like the nest we've just found, it will soon spring into abundant, colourful life.
#DareToExplore Vermilion
Events by The Good Life Institute:
If you go
Did you know Vermilion is home to Vermilion Provinical Park? The park runs about 15 kilometres  along the south shore of the Vermilion River Valley. Enjoy a day by the river during your visit. Learn more here.
Want to check out the Taste of Vermilion for yourself? Head on over to our Festival Overview and get a sneak peak of the day's events.
Are you ready to eat your heart out at the Taste of Vermilion? Share this page with your crew.