Doc Pow
I'll admit straightaway – I am not a huge country music fan. But after attending the Big Valley Jamboree two years in a row, I've discovered this annual event is way more than just folks twanging on a geetar about their lost dog down by the river.
"I'm not a big country music fan. I couldn't name one of the songs these guys play, but my wife sure could," explains festival goer Jeff Stewart of Red Deer. "I'm more of an electronic music fan, but the thing for me is that we get out here and have a great time because we meet a ton of people. Every year my wife and I come in and set up camp next to a bunch of people we don't know and within minutes we've made new friends for life. We've only been here for a day and we're already travelling with 12 people."
And folks have been coming to Big Valley Jamboree, better known as BVJ, for over 20 years, which has now built up to an average of 25,000 people on the grounds each day. Happening every August long weekend over four days, BVJ attracts some of country music's biggest names including Toby Keith, Blake Shelton (of NBC's The Voice) and Dwight Yoakam. Mixed in with the talent is a whole lot of partying, camping and great times with family and about 24,999 new friends.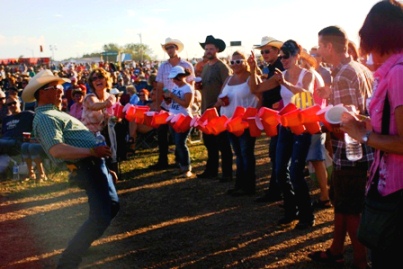 So much more than just music awaits those who attend one of North America's biggest country music festivals
Photo courtesy of Doc Pow
"We're officially sold out, for the first time in 20 years," explained Larry Werner, BVJ Executive Producer. "We've gotten to this point by providing great music and an exciting experience. Now with ticket sales like this we can work on providing an even better experience for our guests."
What I found interesting was the variety of cover songs by many of these acts. Over the weekend I heard performers like Blake Shelton belt out a Bobby Brown song and Calgary's Pear do a cover of Zepplin's Whole Lotta Love. The BVJ concert bowl surrounding the main stage featured seating for those who'd paid for it, a general admission area for lawn chairs and blankets, corporate boxes and the Alberta Pure Backroom Vodka Bar, which I guarantee was one of THE party destinations of the summer.
Some people dressed in costume. Some minus shirts, or perhaps they were picking up a new shirt by swapping with their neighbor. It seemed everyone who came to BVJ had one thing on his or her mind - let's have a good time and dance.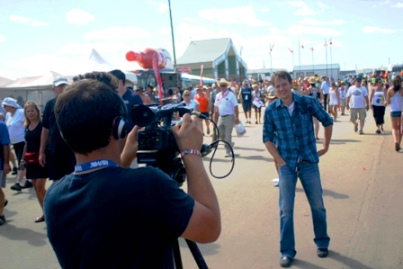 Country Music star Aaron Lines "on set" shooting Travel Alberta's Small Town Saturday Night 2013 commercial
Photo courtesy of Doc Pow
"Growing up, I remember the Big Valley Jamboree and hearing all the stories from my brother. I couldn't wait for the day I could go," said music star Aaron Lines.  Lines grew up in Fort McMurray and now spends about half a year down in Nashville. "Having played BVJ three times is pretty cool. Down in Nashville, the only way to explain the BVJ is that you have to experience it! The fans here are all so great."
We caught up with Lines as he was shooting a commercial with Travel Alberta as a follow-up to their successful Small Town Saturday Night promotion. This promotion is back for 2013 in which one lucky Alberta town will win an exclusive concert for their community. Legal, Alberta took the prize last year, bringing them $95,000 for the community.
So perhaps you and your crew should consider a visit to BVJ 2013; as I've discovered, it's not so much about the music but more about experience.
Saddle up and get over to www.bigvalleyjamboree.com for the low down.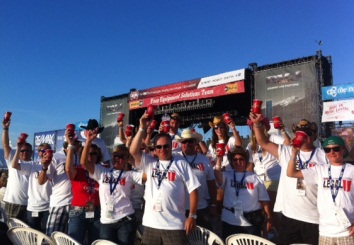 The folks from Legal Alberta celebrating their Travel Alberta Small Town Saturday night win.
Photo courtesy of Doc Pow