The excited crowd watches as Frank Florian sets up the "big one".
Photo by Katie Correlje
KATIE CORRELJE
JASPER, AB - It was a perfect fall day in Jasper; blue skies, sun shining, golden leaves covering the ground and the Rocky Mountains providing a beautiful backdrop.
The second annual Dark Sky Festival had taken over the lawn of the Jasper Information Centre and turned it into a 'Space Cadet Fair' - a day of sky-themed entertainment and educational activities, just for kids.
And kids there were. Dozens of them, grinning from ear to ear as they raced from one "space" station to another. They patiently waited their turn to peer through a telescope to see the sun, decorate pop bottle rockets, create a dream catcher solar system and participate in the planet treasure hunt.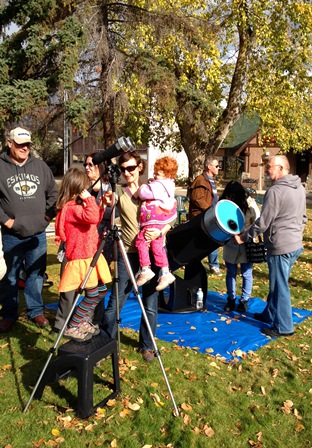 Meghan, Tasha and Jenna Cooney (foregound, left to right)
take turns looking through high-powered binoculars.
Photo by Katie Correlje
Asked what her favourite part of the festival was so far, Meghan Cooney, age 5, said, "The telescopes were the best. I saw the sun and it was way big; a huge yellow ball and so pretty!" before running off to get her face painted like a unicorn.
Later in the afternoon the excitement moved to the Jasper Elementary School field, where Frank Florian, head of programming at the TELUS World of Science, helped the "space cadets"  assemble miniature rockets.  Children eagerly awaited their chance to hold the detonator and, after an enthusiastic countdown from Florian and the crowd, send the rocket shooting off high into the sky.
I have to admit, the rocket launches brought out the kid in me. I couldn't help but join in with the others as we cheered and begged for Florian to set off the "big one" – a 5+ foot long blue beauty. He gladly obliged.
Meanwhile, inside the school gym an inflatable digital planetarium had been set up by the TELUS World of Science. Upon entering, I was transported to outer space; constellations, planets and comets swirled all around me.
The mesmerized audience quietly oohed and ahhed as we were taken on a journey through the wonders of the dark night skies.
"Jasper is like the Disneyworld of Dark Sky Preserves and stargazing,"  said Peter McMahon, science journalist and guest speaker for the festival. "You have world-class amenities and comfort here in town and all it takes is a 10-minute drive to experience awe-inspiring night skies. You get a view like nothing else."
Just what is a Dark Sky Preserve? It's an area free of artificial light pollution, a stargazing sanctuary that pristinely maintains the nocturnal environment. In 2011, the Royal Astronomical Society of Canada designated Jasper as the world's largest Dark Sky Preserve, and from that the Jasper Dark Sky Festival was born.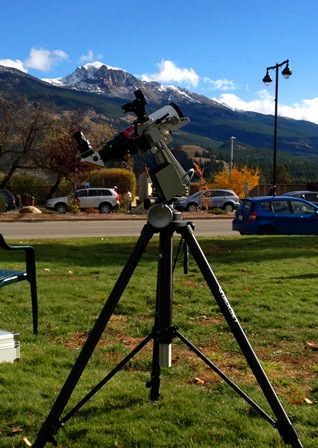 The Jasper Dark Sky Festival runs over a weekend in October each year.
Photo by Katie Correlje
"There are plenty of astronomy 'star parties' around the world geared towards scientists and astronomers, but this festival is much more unique in that it is a celebration of the night for the general public," said MacMahon. "It attracts families to do something different and educational, and unlike other festivals, having small children doesn't hold you back because there's something for everyone."
The goal of Jasper's Dark Sky Festival is to get people of all ages excited about astronomy. Presentations geared towards adults included subjects such as the connection between astronomy and popular culture, the future of space tourism, astrophotography sessions and the 1-2-3's of telescope use.
Bob MacDonald, host of CBC's Quirks & Quarks, also spoke at the Dinner with the "Stars",  giving an engaging and informative speech.
The highlight of the festival for young and old alike was the Pyramid Island Starlight Adventure. Festival-goers made their way on foot or by shuttle to Pyramid Island on Pyramid Lake, where astronomers from the Royal Astronomical Society of Canada, Edmonton Science Outreach Network, Parks Canada and the TELUS World of Science set up viewing stations.
The heavens were in our favour as the clouds disappeared and a nightscape of stars, planets and even the Milky Way came into view.
No flashlights or cell phones were allowed on the island, and tiny votive candles wrapped in red cellophane (to reduce the light pollution) marked our path as we made our way from one station to the next. We learned about constellations and galaxies and viewed them through high-powered telescopes.
The silence on the island, combined with the jaw-dropping beauty of the stars and the surrounding mountains was absolutely incredible. It was Mother Nature's dark side at its finest.
"I'm so glad we made it out this year. We had heard such great things about it," said Tasha Cooney, mother of Meghan, 5 and Jenna, 3. "It's such a great way to get your kids interested in science and work their imagination. And what a beautiful time of year, what a great way to enjoy the fall."
I couldn't agree more.
For more information on the Jasper Dark Sky Festival visit Tourism Jasper's website