ELIN THORA JENSDOTTIR
The Hinton Winter Magic Festival is becoming a familiar part of Hinton's traditions as it's about to celebrate its 27th year. It brings a warm atmosphere to the cold month of February, and shares the magic of winter with every individual in town.
From Feb. 12 to 24, the Town of Hinton attracts people of all ages with almost endless options of winter activities.
"We have some very enthusiastic people," said festival coordinator, Holly LaRochelle.  "The expertise that is offered really makes it special."
The Bonhomme Carnaval run by the Canadian French Parents will bring the traditional French winter spirit with French Canadian cuisine, while the Lantern Festival run by the Arts Council will light up the night for its second year.
The festival is organized by community groups such as, the Hinton Nordic Centre, Fish and Game Association, Yellowhead Arrow Launchers, and the Luge Society.
Every way you turn you'll find a unique winter activity. This festival gives everyone a chance at ice fishing (catch a white fish in 20 seconds), luge ("controlled tobogganing"), cross-country skiing, snowshoeing, and ice skating.
For those who want to stay away from the cold, you can choose to stay active in the Indoor Archery Range, or sit back with a glass of scotch, take in local art, or go for a dinner and a movie.
It's rare that an event repeats itself in the 13 days of magic, and every year seems to bring something new.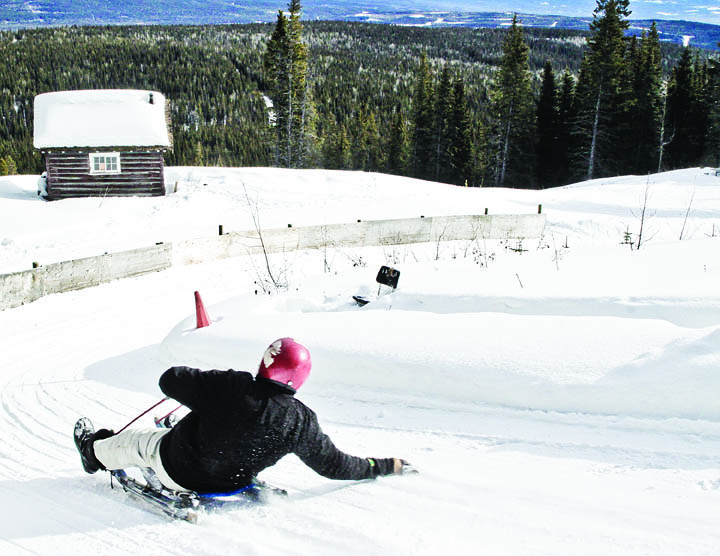 The Luge Society teaches children and adults "controlled tobogganing."
Photo courtesy of Hinton Tourism
The Luge Society has participated in the festival on and off for the past 10 years. Children to seniors can learn how to luge down a mountain.
"It's just awesome, they love it right away," said program director and luge coach Cathy Jones.
"The view is just astounding," says Jones about the mountain, which stands 20 minutes west of Hinton, in the Grande Cache area. The view of children sliding down the luge track is another awesome sight for parents, and for anyone it's a fun event even to watch.
The Luge Society will offer two- hour lessons for $25 a person on weekends during the festival.  There's need to book a spot, but the schedule is weather dependent. The society also offers a free ride up the mountain so no one has to sweat their way to the top.
"We've had people come specifically for the event," said festival co-ordinator, Holly LaRochelle. Every year the organizing team tries to increase participation and awareness of the festival. Tourists in Jasper often visit Hinton for a new experience in the foothills of the Rocky Mountains.
Keep in mind that some of the events require registration and/or cost associated with them. Events take place in and around the town.
Go back to Festival Overview page