Lori Escelara has an impressive body of chalk art work. Escelara will be the featured
artist at the Chalk Art Festival in Medicine Hat. 
Photos provided by Lori Escalera
JOANNE ELVES
MEDICINE HAT, AB. – Artists create masterpieces that can take days to create, and sometimes within days of completing one, the wind or rain could erase it all.
Such is the career of prolific street chalk artist, Lori Escalera, who will be the featured guest at Medicine Hat's first Chalk Art Festival in Alberta, Aug. 13 -16, 2015.
The event will be held in downtown Medicine Hat and at Medalta Pottery. Everyone is invited to watch Escalera as she creates a special street painting — or join in draw right alongside her. 
These are not your regular sidewalk chalk drawings. Escalera is part of an international group of artists who create stunning portraits, murals and 3-D features on sidewalks, promenades and malls. Escalera's work is beautiful but it began with a bumpy introduction.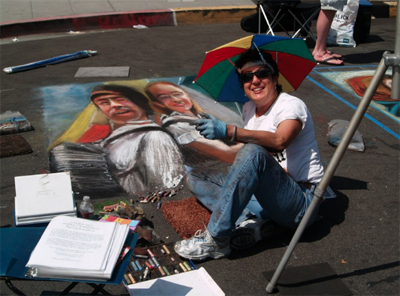 Often, it will take hours and hours for an artist to complete one piece. 
"It started in Culver City, California when I started the Culver City ART Group," said Escalera from her home in California. "A friend of a friend asked if some of us would do some sidewalk art at an arts festival," she says. "I actually hated my first efforts but it opened a new door for me. It showed me that I loved doing the chalk in the street. I loved it so much that the next year our art group started doing it in festivals."
That was more than 20 years ago and the passion has never waned. Escalera not only creates masterpieces anywhere she travels, she conducts workshop, too. Her describes her style as "Madonnari," which has its roots in Italian Artists of the 16th century representing religious themes of the Madonna in front of the church. But she also has a whimsical side, drawing subjects like Mario Brothers, fish ponds, celebrities and landscapes.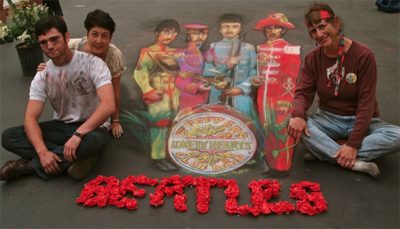 Chalk artists create some unreal and stunning works of art.
"I'm really excited to be part of the first chalk art festival in Medicine Hat. I haven't decided what my painting will be. I know it will involve the sun in honour of this being called the Sunshine Festival," said Escalera. She plans to work eight hours each day on her large-scale creation.
Local artists and inkers will join in
Downtown Medicine Hat will sweep the streets and sidewalks to get ready for Escalera and up to 100 other artists who want to try their hand at street art. Tweet This!
Escalera will be also be joined by some local professional artists and even some tattoo artists. Three full blocks will be closed giving everyone space to create. Participants can sign up early or drop by on Saturday morning. If there's still space on the street, there will be room for more creations.
Diane Rittinger, executive assistant and events planner with the City Centre Development Agency, says qualified artists are invited to inquire about being featured alongside Escalera.
"We invite artists to contact us about participating. Featured artists will have the chance to learn a new medium or enhance your current skills by spending the day with Escalera," said Rittinger. They will also have access to a hospitality area with free food and refreshments and will be provided with chalk art supplies and will receive an honorarium.
"Bring your business cards and a portfolio and share it with the public as they watch your masterpiece unfold," said Rittinger.
Aspiring artists interested in participating should call Rittinger at the CCDA office at 403-529-5997 or email ccda@shawbiz.ca.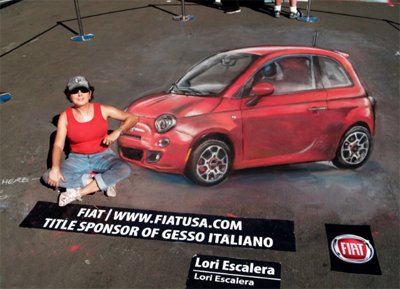 The detail in Escalera's drawings are incredible and life-like. 
Hal Benson, chair of the Downtown Promotions Committee, saw Escalera working on a mural at a festival in Big Fork, Montana and was blown away. "I was amazed by what these artists can do. I think Medicine Hat can easily be the perfect venue for a chalk art festival. Lots of sun, lots of space, it's perfect."
During the festival there will be food and entertainment and a kid's zone where for a small fee they can grab a box of chalk and create a masterpiece. Other venues in Medicine Hat are joining in, including The Monarch Theatre and the Esplanade Arts and Heritage Centre. If the weather doesn't co-operate, the covered city bus terminal will become a temporary art gallery.

There are plenty of reasons to check out Medicine Hat this summer. From shopping, dining, arts and culture and lots of sunshine. 
Medalta hosts chalking workshops
Escalera will meet people on Aug. 13 at Medalta Pottery and give a presentation about the history of street chalk art and maybe inspire others to pick up the chalk and explore the medium.
"Chalk art is wonderful, I tell people to forget their inhibitions and come try it. The fun you will have will outweigh your perceived bad art," said Escalera. "Everybody walks away proud of their efforts."
More info
For more information, keep an eye on the Downtown Medicine Hat webpage.
Aspiring artists interested in participating should call Dianne Rittinger at the CCDA office at 403-529-5997 or email ccda@shawbiz.ca
Get planning and head to Medicine Hat this summer, learn more here.
Ready to be wowed by incredible works of art on the pavement of Medicine Hat? Share this page with your friends.